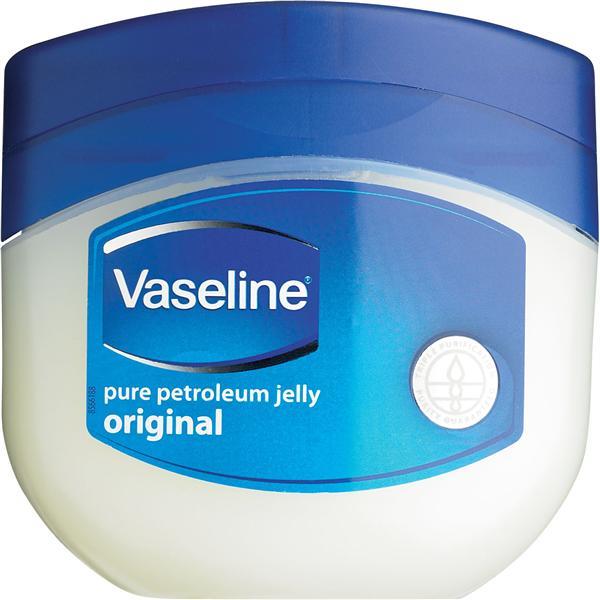 There's a beauty product for just about everything these days. Need your makeup to last? Primer. Want brighter skin? Highlighter. All of these meticulous items start to add up, and while some may be worth your purchase, other needs can be met with a single common item: Vaseline. Petroleum jelly is a multi-use wonder that solves a slew of beauty-related problems. Below are just 10 of the cool, unconventional ways you can use Vaseline in your beauty routine.
1. Makeup can be a stubborn thing to remove at the end of use night. Use a washcloth with a little small amount of Vaseline to remove makeup while simultaneously hydrating your skin.
2. For the ladies who use at-home hair dye, rub a thin layer of Vaseline around your hairline to prevent hair dye from bleeding onto your skin in the coloring process.  
MORE: 12 Weird Beauty Uses for Coconut Oil
3. Coat an old (and clean!) mascara wand in Vaseline to brush and tame eyebrows into place.
4. Turn powder eyeshadow into a cream by adding a touch a Vaseline. Mix the two together on the back of your hand, then use a synthetic brush to apply to your eyes.
5. Add an ever-so-slight amount of Vaseline throughout your hair to slick back flyaways and hydrate dry ends. Be careful not to add too much, though, as an excessive amount can make hair look greasy.
6. Highlight your cheekbones by mixing a light, shimmering highlighter with Vaseline and apply above the apples of your cheeks.
MORE: 10 Weird (But Awesome) Ways to Use Baby Powder
7. Pucker up! Give your lips moisture by applying Vaseline straight out of the jar. If you want an extra kick of color, mix with a lip stain for a hint of color that won't dry out your pout.
8. Apply Vaseline to your cuticles before painting nails to shield your fingers from getting excess nail polish on your skin. Wipe the Vaseline off nails once they're dry, and your manicure will be perfect.
9. Make your perfume last by applying a dab of Vaseline on your wrists and behind your ears before you spray. The fragrance will stick to these areas and keep you smelling beautiful all day long.
10. Apply Vaseline to your heels and any dry areas of your feet before you go to bed, then wear a pair of socks to lock in moisture to these areas of skin overnight.