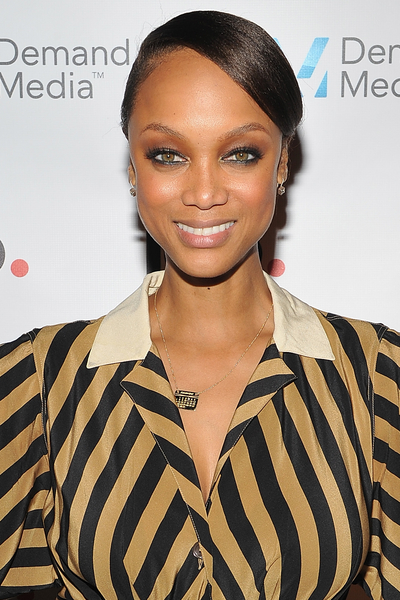 Photo: © Theo Wargo/MJF/Getty Images for Demand Media
Tyra Banks used to feel "intimidated" by fashion designers.
The supermodel-turned-businesswoman admitted although she enjoyed a successful career as a model before developing her own business empire, she felt like a "little teenage girl" around designers such as Chanel's Karl Lagerfeld.
She said, "I'm not the high-fashion girl inside. So I was walking in the runways of Chanel and Yves Saint Laurent and Dior and all the other top designers of the world, but I always still felt intimidated, which is interesting. Karl Lagerfeld is dressing me, Yves Saint Laurent is like smoothing my hem or something, and I felt like a little teenage girl and these amazing designers were around me and they were like these Greek gods."
The America's Next Top Model presenter and producer–who recently launched her own online magazine Type F–also revealed that fellow model Cindy Crawford, who was always in control of her surroundings, inspired her to immerse herself in the business side of the industry.
Recalling the moment she witnessed Cindy's power for herself, she told NYmag.com, "She had all these people around her and she looked so in control. She was hosting MTV's House of Style, and I was just like, 'Wooooaaaahhhh. She's not waiting for a phone to ring and for a designer to hire her, and I know she has a Revlon contract, and I hear that she has an office at Revlon.' Like to me her having an office in the Revlon building was like, 'I want an office in a building like that.' "


Try on Tyra Banks' hairstyles in the Makeover Studio!