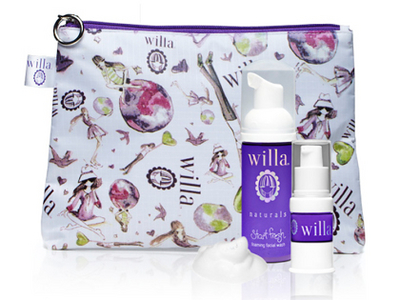 It's never too early to start a good skincare regime, and for pre-teens, it might be really confusing on where to even begin. Enter Willa, a new skin care company designed for young girls and full of amazing products that every lovely maiden needs.
The line was created by a young beauty named Willa who just couldn't seem to find natural products to help clean, protect and moisturize her skin in a healthy way. This adorable line is paraben-free, non- animal tested, free of sulfates, DEA and all the other nasties out there. In the collection you will be able to find gentle cleansing products for young girls to keep their skin fresh and clean. The moisturizers, shimmer body lotion, face mask and sunscreens will help hydrate and protect a delicate young complexion, and the acne-fighting Take Action pen ($10.50, Willaskincare.com) can stop breakouts in a flash.
The glosses are sheer, shimmery and light, containing vitamin E for healthy, happy lips, and they each come with a little lobster claw hook to attach to whatever keychain, phone or purse you may be carrying. The Smile Butter ($7.50, Willaskincare.com) comes in three tropical flavors and is just plain addictive, and The Sleep Over Bag ($14, Willaskincare.com) will fit all your goodies so you can look fresh wherever you are.
As an established makeup artist, many beauty brands send me samples of their latest products for consideration. I only write about the items that I truly love and I always abide by Daily Makeover's Editorial Ethics Pledge in each of my Positively Beautiful posts.