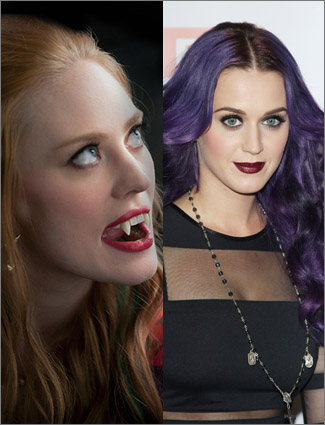 Photos: (Left) Trueblood-online.com (Right) Michael Tran/Getty Images
Finally! Summer's hottest show, True Blood, returned last night, with nothing but sexy vampires, werewolves and Eric Northman's butt flooding TV screens all across America. Awesome story line aside, we noticed that the vamps were looking particularly pale. Obviously, our favorite nocturnal creatures are a little on the pasty side, but we couldn't help but wondering: Is this a look that could transcend into real life?
The Real Reason We Watched True Blood
If history has taught us anything, it's that summer means women will dedicate a significant amount of time to getting a tan. But ever since "Tanorexic" mom made an appearance, something about getting a tan seems less appealing, making way for a sexy vampire trend.
We've seen TV shows inspire all kinds of looks–Mad Men cat eyes and Blaire Waldorf headbands, just to name a few–but sporting pasty, vampire-like skin in the middle of summer would take things to a whole new level. We know, it's hard to imagine putting down the self-tanner for even a mere moment, but celebs seem to be on board with the look. Take Amanda Seyfried, who was spotted at the Tony Awards last night looking especially pale, pairing her complexion with red (dare we say blood-stained?) lips. Earlier this season, Katy Perry also went for a pasty-skinned look, with dark, vampy lips to match. So perhaps pasty skin is the new hot color of the season.
What do you think? Are vampires sexy enough to want to copy their look completely? Tell us your thoughts on Facebook!