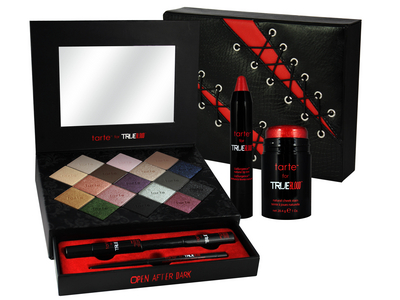 Need your fix of sexy vampires, shirtless werewolves and telepathic fairies? Good news kids: True Blood is back! Sunday marks the season 4 premiere in all of its naked, steamy glory, and we cannot wait to ogle Joe Manganiello's abs–we mean, see what happens next.
Try on makeup in the Makeover Studio!
Need something more to satiate your vampire craving? While you can't buy an Alexander Skarsgård of your very own (yet), as of today you can get your hands on this sweet makeup collection from Tarte that's inspired by the show.
The Tarte for True Blood collection features a limited-edition palette, cheek stain and lip tint, all designed in partnership with True Blood makeup department head Brigette Myre-Ellis.
The palette, which launches on June 27th, contains 17 brand new eyeshadow shades–with names like Glamour Me, Waitress, Bayou and Nocturnal–plus an eye primer, black eyeliner and mascara. Both the cheek stain, which launches today, and the lip tint, which launches June 27th, feature the same lusty shade of red and are packed with good-for-your-skin ingredients like acai, pomegranate and vitamins.
Dying to snag Anna Paquin's naturally sexy look from the show? "When I'm creating a natural beauty look," says Myre-Ellis, "I love to start with a glowing complexion. For the eyes, I tend to combine softer shadows with a defined line and lots of lashes. As for lips, I work with the woman's natural lip shade and build on that; whether it's more nude or pink." One sexy waitress, coming right up!


Try on Anna Paquin's hairstyles in the Makeover Studio!