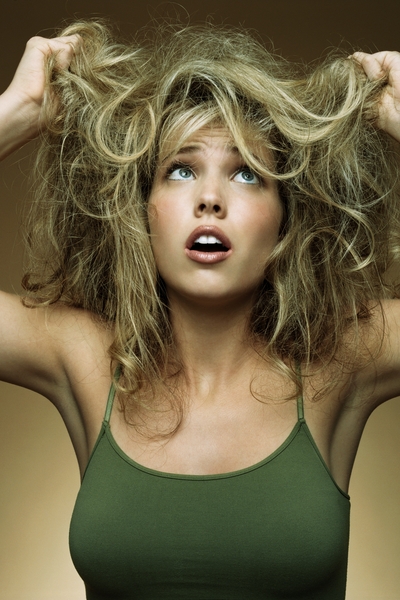 Photo: © Andreas Kuehn/Stone
Most women are familiar with that gut-sinking moment when one looks in the mirror and realizes the cold, hard truth: It's going to be a bad hair day.
Well, for those days when the hair goddesses do not smile upon you kindly, we believe every lady can take her hair look from fright to sight to be seen with minimal effort. In other words, when life gives you less-than-perfect hair, you need to take those strands in your hands and whip them into shape.
To prove that you can rise and shine no matter what you wake up with, our friends at StyleList enlisted the help of celebrity stylist Johnny Lavoy, the consulting hair expert from L'Oréal Paris. Lavoy reveals the hair saviors that keep the locks of his A-list clientele (like Lady Gaga and Freida Pinto) looking lovely day after day. From a do-it-all kit to a little on-the-go static fixer, Lavoy offers his top tress-taming tips that will get your hair back on track in a flash.
Instant Body Booster
When you have limp, lifeless hair that has no motivation in the morning, Lavoy has a sure-fire trick for getting those strands pumped up. First, put your hair in a high ponytail, heat up your hair with a blow-dryer (while it's in the pony) and then let it cool. Now, spray it with a workable hairspray and let the ponytail down. "You will have tons of instant volume," he promises.
Frizz Fighter
For those times when it looks like your finger got stuck in a light socket, Lavoy recommends combating frizz with (surprise!) a frizz-taming serum. "Blow-drying your hair with a serum will keep your hair smooth and frizz-free for a couple days," he says. L'Oréal Paris EverSleek Frizz Taming Crème Serum promises silky locks for up to 48 hours. It's also smart to keep shampooing to a minimum because this tends to dry out the hair, which is the main cause of frizziness. If you must wash it every day, then dilute your shampoo with an equal amount of water.
Damage Control
Especially during the winter months, hair can lose that loving, lustrous feeling. And when hair is dry and damaged, you can count on the bad days outnumbering the good. He recommends getting to the root of the problem by conditioning your hair while you sleep with a rich, overnight repair treatment. This way, he says you will "wake-up conditioned and ready to style without your hair being limp or greasy."
Static Free
The dry winter air can take your hair up, up and away, and not in a good way. Also, hair that is freshly washed and blow-dried is more prone to a not-so-fun flyaway static situation. If you absolutely need to use a hair dryer, try using an ionic ceramic one, which claims to remove the static charges before releasing them into your hair. Or, he recommends using a dryer sheet to calm flyaways. "It's a great on-the-go solution. Run it down your hair and static be gone!"
First-Aid Kit
As the old adage goes, preparation is the key to (hair) success. With a few travel-sized products in your purse, you can confidently confront any hair snafu. Lavoy suggests three must-haves for anyone looking to fight the good fight: a hair band, a few hairpins, and a mini can of hairspray. "Having these three items can save you in the worst situation," he says. "If your hair is out of control, you can whip up a simple ponytail or a classic bun."


Try on new hairstyles in the Makeover Studio!
More from StyleList
Katy Perry's E.T. Makeup
Keri Russell's Beauty Evolution