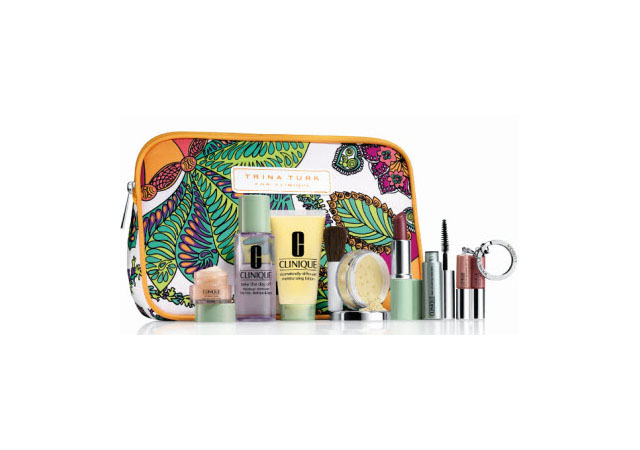 The Clinique Bonus is the highlight of every department store visit, and was honestly the only time my mother ever let me purchase Clinique products when I was younger. Whenever I wanted a new moisturizer or foundation it was always, "wait until the next Bonus comes around" or "you don't want to miss out on the next great cosmetics bag!" I remember pouting and being frustrated (okay, even then I was a tad impatient) but always realizing in the end that she was rightthose Bonuses were oh-so-gratifying! I handed over my hard-earned $25 for some makeup, and was given so many extra products in return.
Clinique teamed up with Trina Turk (known for her fabulous prints) for their latest cosmetics bag, and their Nordstrom Bonus is as follows:
All About Eyes (0.17 oz.)
Take the Day Off Makeup Remover (1.7 oz.)
Dramatically Different Moisturizing Lotion (1 oz.)
Redness Solutions Instant Relief Mineral Powder (0.12 oz.) with Brush
Full-Size Different Lipstick (0.14 oz.) in A Different Grape
Lash Doubling Mascara (0.14 oz.) in Black
Clinique Keychain with Long Last Glosswear SPF 15 Minis in Bamboo Pink and Stellar Plum (0.03 oz. each)
Trina Turk-designed cosmetics bag
Head to Clinique now via Nordstrom.com to receive the above along with your $25 Clinique purchase.
For more information about our relationship with Clinique click here cmp.ly/3.