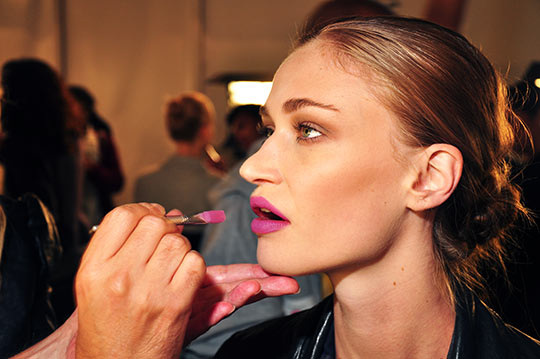 Photo: Nathan Bush
Matte plummy violet lips popped at Vena Cava. MAC makeup artist Lloyd Simmonds drew inspiration from the fabrics and exterior home painting patterns of the South African tribe called the N'ndebele. Mean Girls fans will recognize this tribe as the very same one who created the vase Lindsay Lohan's Cady Herron hid in high school shame under the sink before her house party.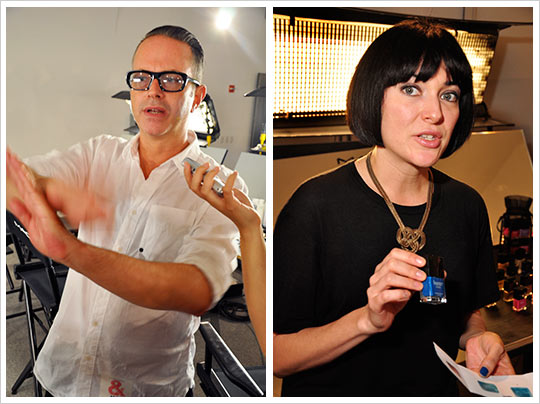 Lloyd Simmonds and Nonie Creme
Photo: Nathan Bush
To create his matte purple pout, Simmonds mixed different MAC PRO Lip Mix pigments. Says Simmonds, "To interpret this look at home, simply dab on the color as a stain with fingertips, or blot with a tissue after application."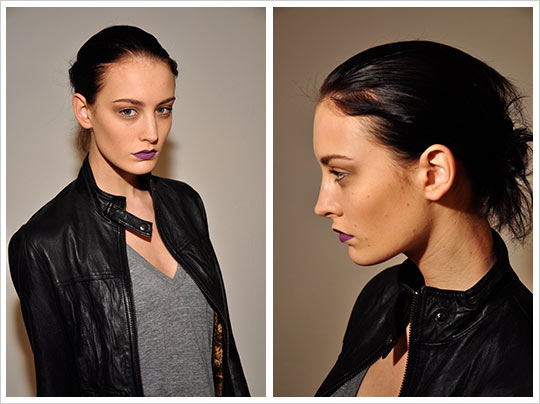 The final look
Photo: Nathan Bush
Butter London for Beauty.com provided the show's nail concept. Brand founder Nonie Creme mixed, in equal parts, Butter London Artful Dodger ( a turquoise) and Royal Navy (a cobalt) to achieve a "dark bright" edgy pop of color. Nonie recommends starting with a clean cuticle and allow the paint to go into the cuticle to get that "crisp line" around the base of the nail. Nonie predicts that Spring/Summer 2010 will be characterized by polar opposites in nail trends: they'll skew either sheer or intense.