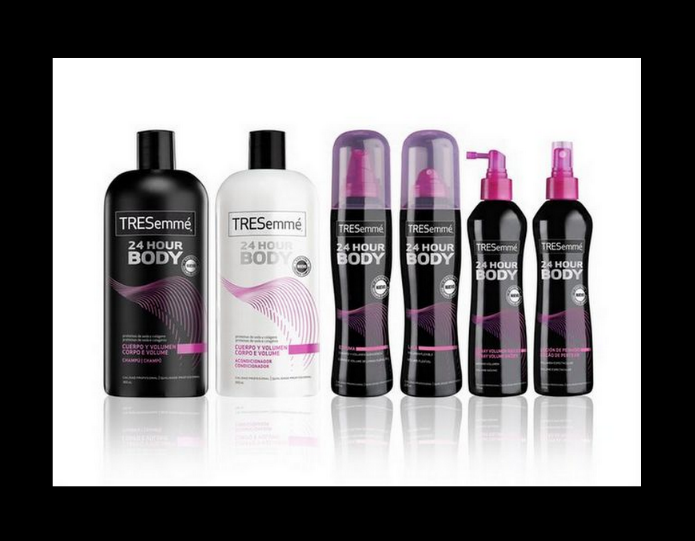 Take an inventory of how many hair products are currently in your bathroom. The final count is probably embarrassingly high (don't worry – so is ours) and the idea of only using one product at a time is just plain crazy. The products you mix together every morning are your personal hair cocktail, and if you're anything like us, you're probably in a constant search for the perfect signature blend. Last night, we had the chance to sit down with Tresemmé Celebrity Stylist John D. to talk about the new line of Tresemmé products and how to whip up the perfect summer hair cocktail.
If you're going for a blow dry style, check out the 24 Hour Body Blow Dry Lotion and Non-Aerosol Hair Spray. The blow dry lotion is similar to a mousse, but lightweight and workable. You won't have sticky fingers (or hair) after putting this into your damp hair. Before you blow dry a section of hair, spray with the Non Aerosol Hairspray. This product gives your hair moisture, which John D. explained was the biggest way to combat flyaways, especially any that are right in the part of your hair.
For a smooth style (which could be straight or curled), go for the Smooth Line of products, including the Smooth Iron Style & Hold Spray and Smooth Salon Silk No Frizz Serum. Start with the Style & Hold Spray before heat styling. Stylist tip: Use serum after, never before, styling with a flat or curling iron. Putting a serum in your hair before putting an iron to it is literally cooking your hair (think of putting oil in a frying pan before you cook chicken). Using serum after, though, will smooth out the hair and leave it frizz free. This particular serum isn't heavy like other serums, and has Argan Oil for a great finish.
Our Signature Summer Hair Cocktail as suggested by John D.: Spray 24 Hour Body Blow Dry Lotion on damp, towel dried hair. Next, spray 24 Hour Body Non-Aerosol Hair Spray all over hair and blow hair straight with a flat paddle brush. Once done, apply the Smooth Salon Silk No Frizz Serum and wrap hair into a low donut bun. Let your hair cool off and set in the bun for about 30 minutes (or overnight, depending on your natural texture). When you take the bun out, your hair is smooth and has a waved, undone look that seems simple but actually takes effort. Tried, tested and Beauty High approved, this cocktail needs to be on the permanent menu.