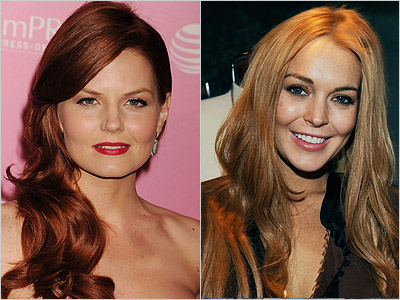 Photo: Getty Images
A huge trend we have been noticing this spring is red hair. So many celebs, such as Jennifer Morrison, Jaime King, Gossip Girl's Kaylee Defer and Lindsay Lohan (finally back to natural!) have been trading in their golden locks for the edgier hue. And here's some breaking beauty news: Miley Cyrus just dyed her ombré locks to a light red.
Trend Alert: Hot Pink Tips Are Back!
Not everyone can pull off the vibrant shade, but more can than you would think. Here are some tips for finding out if red is in your hair-color future.
What Is Your Skin Tone?
Certain skin tones look great with red hair, while others do not. If your veins are blue, you have a cooler skin tone and you shouldn't go with a warmer hair color like red. But if you see a greener tone in your wrist veins, then you have a golden skin tone compatible with red. "Feel free to play around with golden browns, reddish tones and honey shades," Elizabeth Hiserodt, a colorist at the Serge Normant at John Frieda Salon in New York, recommends. She also suggests cherry and violet shades for darker skin.
How Healthy Is Your Hair?
Red colored molecules are larger than in other dyes, making it harder for the hair shaft to hold on to. This causes the color to fade faster than other shades. Dry or damaged strands will have an even harder time holding onto the color.
Would You Go That Bold?
Red hair is a bold move to take, and not everyone is willing to do it. Personally, I know that I can pull it off because I have natural red highlights, but I've still always been nervous to go all out. But the great thing about color, unlike cut, is that it can easily be fixed if you're not happy with the results.
Are you daring enough to try red this spring?