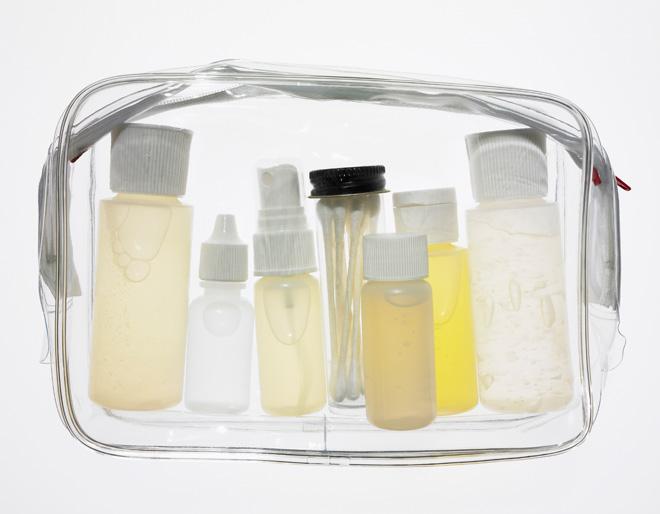 We understand how difficult it can be to fit all your beauty products into a weekend bag. The solution? Choose products that multitask. We've compiled some of our favorite combinations for all your summer getaways.
Use conditioner as shave gel. The two products share many of the same moisturizing ingredients, and conditioner's slippery texture helps your razor glide just as easily as it detangles hair.
Try: Paul Mitchell The Conditioner Leave-In Moisturizer (paulmitchell.com) smooths hair and skin.
Replace your daily moisturizer and foundation with a tinted BB cream. All of these products are necessities for beach trips so combining them into one product not only saves room but also time. Tinted moisturizer provides coverage while soothing skin.
Try: Stila Stay All Day 10-in-1 HD Beauty Balm ($38, sephora.com) adds a touch of illumination while reducing inflammation and providing SPF coverage.
Use a brow pencil as eyeliner. As long as the color matches the brow, the two use the same consistency for simple, natural-looking results.
Try: Maybelline ExpertWear Brow & Eye Pencil ($5.59, maybelline.com) features blendable color that fills brows and enhances eyes.
Choose a shower gel/shampoo hybrid. Lather is lather, more or less, and both products are designed to moisturize and cleanse.
Try: Philosophy's Shampoo, Bath, Shower Gel ($24 for 16 oz., philosophy.com) leaves both skin and hair soft and freshly hydrated, with an alluring scent.
Use multipurpose stick for eyes, cheeks and lips. Shades of pink, rose gold or bronze work on all your features to create a monochromatic makeup look.
Try: NARS The Multiple ($39, narscosmetics.com) can be used anywhere on the face or body to add contours, accents and highlights.
Try an oil for body and hair. Smooth hair and skin can be hydrated with many of the same natural ingredients.
Try: Leonor Greyl Huile Secret de Beaute ($65, leonorgreyl-usa.com) uses natural oils to give hair a shiny finish and skin a supple feel, and its scent of lemongrasse, tiare and yucca smells divine.