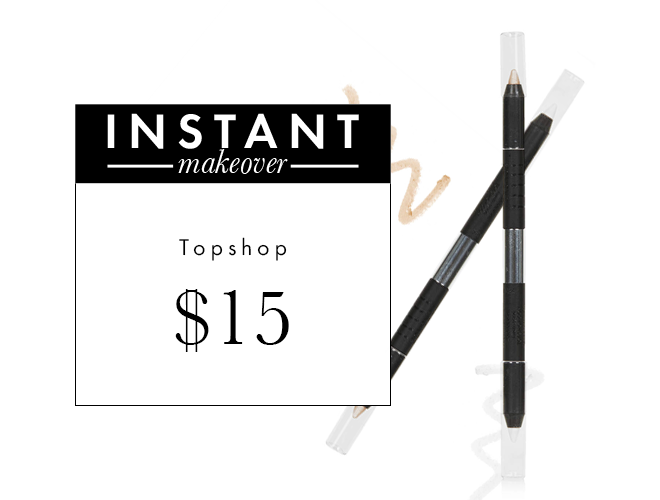 Occasionally we come across a product that bestows an immediate glow, changing our look (for the better!) in an instant. Since we'd be remiss to keep them to ourselves, we highlight these genius finds in our Instant Makeover series.
The invention of beige eyeliner is a work of genius. Whichever makeup maestro or chronically tired-eyed person discovered that one could get the look of refreshed, alert eyes instantly with a flesh-toned liner alone—a saint.
It goes without saying that the concept in and of itself is worth several slow claps, but there's always been a significant drawback in the fact that very few liner formulas had the staying power to hold up on our finicky waterlines, particularly when it comes to long, exhausting days that are the reason we're in dire need of their illuminating power in the first place.That is, until we got our hands on Topshop Precision Highlighter ($15, topshop.com), the inner rim brightener to end all inner rim brighteners.
The double-ended pencil features both a pearly, but not shimmery, gilded beige kohl and a stark white liner, for all your I-need-to-wake-up-right-now needs. It's super-soft, so you don't have to worry about dragging in that sensitive area of the eye, and the wear time is unprecedented. Apply it in the morning and it'll still be there, luminous as ever, when you go to take off your makeup at night. That's no small feat.
Read more: The Best Tricks for Brighter Eyes