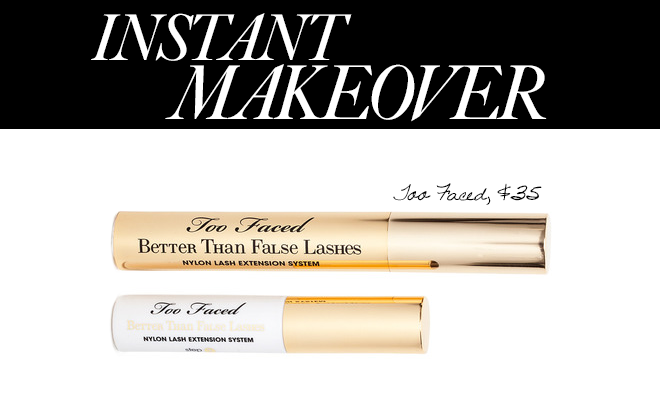 I don't have the steady hand needed to apply false lashes, and with all of the health scares surrounding lash extensions, those are out, too. My only available option is to find a really amazing mascara. Consider that to-do crossed off!
Too Faced Cosmetics makes a bold claim in the name of their product, Better Than False Lashes Nylon Extension System ($35, toofaced.com), but after trying it, I'd say they have reason to be proud. The 3-step process includes two products developed to give lashes 98% more volume and 42% more length. Their secret to delivering lush-looking lashes is in the nylon fibers they use. These fibers stretch and expand to make your lashes pop.
To use the system, apply one coat of activating mascara (although it's mascara, it also primes lashes for the second step). Next, apply the nylon fibers. When you pull out the wand, you'll notice that it looks like it's been dipped in spider webs. Once you apply it (just like you would mascara), your lashes will feel coated in cotton. If you're someone whose eyes get easily irritated, I would recommend applying the fibers further out on the lashes, instead of at the root. Finish the process with another coat of mascara, which covers the fibers in pigment, so they look like your natural lashes.
My lashes definitely looked fatter and longer after applying this mascara, so even though the fibers felt a little strange on my lashes, the results were more than worth it.
Read more: The Best Mascaras For Lush Lashes