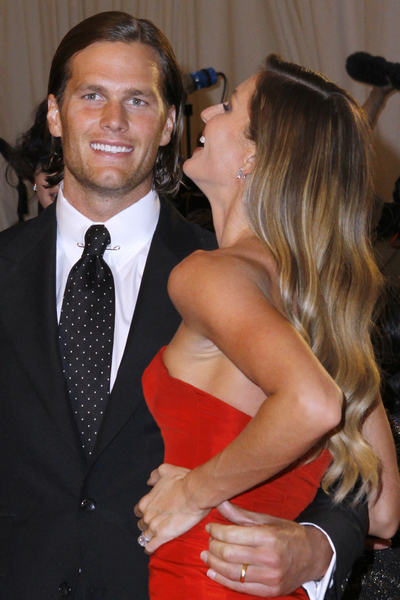 Photo: © Donna Ward / Retna Ltd.
In case you haven't been searching the Internet for pictures of New England Patriots quarterback Tom Brady, let us fill you in on what's happening with Mr. Gisele Bundchen. Specifically, what's happening with his hair. The once totally smoking hot Brady has grown his once glorious hairstyle out into something that resembles a cross between a mullet, your creepy uncle in the '70s and Tom Petty.
And guess what? Tom Brady happens to like his new hairstyle. He even tied it back into a ponytail while partying in Rio at Carnival. Guess what, Tom? There's only one football player that's allowed to wear his hair in a ponytail, and that's Troy Polmalu. Not only does the Pittsburgh Steeler have an endorsement deal with Head and Shoulders, the company actually insured his hair for $1 million.
Since we have actually spent the past few months wondering when our former #1 football player crush would finally admit defeat and ditch the new hairstyle, we were very glad to hear from our friends at Lock & Mane that reporter Jo Piazza had actually spoken to Tom Brady about his hair last night.
Piazza managed to grab a word with the quarterback at the Robin Hood Gala in NYC. "It's time!" she exclaimed. "When will you cut it already?"
We're not so thrilled with the answer: "It won't be any time soon." Brady's wife, Gisele Bundchen, gave the briefest shake of her head. She didn't mind Joe's questions, but she clearly doesn't mind her husband's new look. Great. We can't wait for his forthcoming Ugg ads. Did we mention that Brady is also the spokesperson for Ugg's men's line? Remember when Tom Brady had street cred?

Try on celebrity hairstyles in the Makeover Studio!