I always get excited when winter is on the horizon for one reason…I can take a break from frizzy hair. But then the realization comes that winter brings with it many other hair fiascos. Think dry hair, static and limp locks. Don't worry, we've got you covered with tricks and products to get you through these cold winter months.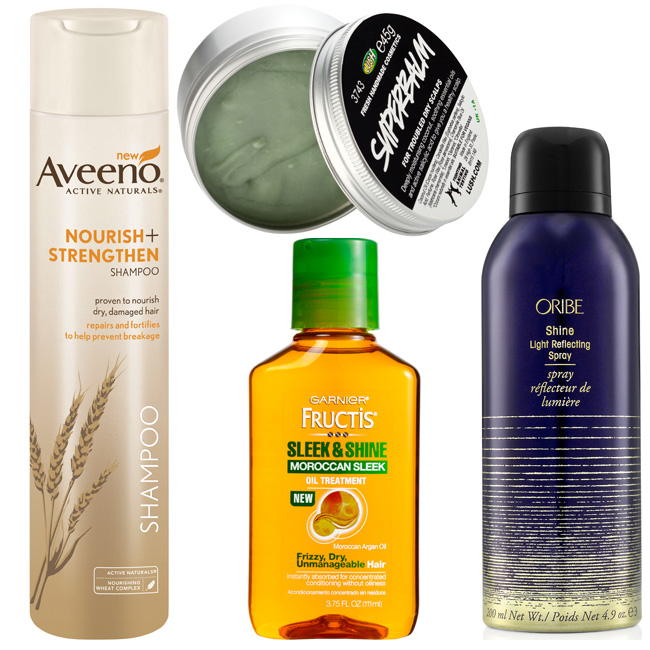 Moisturize Dry Hair
To add a boost of moisture, apply an oil treatment like Garnier Fructis Sleek & Shine Moroccan Sleek Oil Treatment ($5.99, Garnierusa.com) on wet or dry hair. Personally, I like to add it to my daily conditioner for an extra dose of moisture. For a quick fix, try Pantene's new Silky Moisture Whip ($6.29, Pantene.com), a whipped mousse that moisturizes strands instantly and can be used as a styling primer. What we love about this product is that you apply directly to damp hair and style — no rinsing necessary.
Eliminate Static
Oribe's newest addition, Shine Light Reflecting Spray ($36, Oribe.com), has the conditioning ingredient cetrimonium chloride that deposits itself onto the cuticle of the hair, creating a smooth surface and preventing static and fly-aways. For an on-the-go option, try Ted Gibson's Hair Sheet styling towelettes ($25 per 10 sheets, Tedgibsonbeauty.com), a made-for-hair alternative to the dryer sheet method (yes, rubbing your hair with a dryer sheet stops static!).
Treat A Dry Scalp
Aside from being itchy, a dry scalp can lead to dry and limp hair. Try Lush Superbalm for Scalps ($19.95, Lushusa.com), an ointment that is applied directly to the scalp to sooth redness and eczema while it moisturizes hair from the root.
Prevent Split Ends
Dry strands can mean breakage. Aveeno Nourish + Strengthen Shampoo and Conditioner ($7.49 each, Aveeno.com) reduces split ends by strengthing hair cuticles with wheat protein. And of course, the only way to get rid of split ends is by taking a trip to the salon.
Bring Limp Hair To Life
Oscar Blandi Pronto Texture & Volume Spray ($25, Sephora.com) provides instant lift to dull, tired hair. To add volume, spray at the roots and use your fingertips to comb the product through your mane.
What are your worst winter hair woes?