The holidays bring some of our favorite things — glitter nail polish, metallic smoky eyes and an excuse to wear a bow headband. But this food-filled time of year also brings the dread of packing on extra pounds. However, that fear doesn't have to become a reality. Trainer Kathy Kaehler (who's worked with Jennifer Aniston and Julia Roberts, just to name drop a few!) gave us tips on how to keep holiday weight gain at bay. And we created handy cheat sheets for making the right food and beverage choices.
Get organized
Kaehler's celebrity clients survive the holiday season by planning each week. "Make sure you have a plan before each day so you can make better choices. Set a schedule for workouts. Prep your healthy food at the top of the week. Portion out pre-made snacks," she advises. When you have workouts already penciled in and a fridge stocked with nutritious food, it's easier to make smart choices.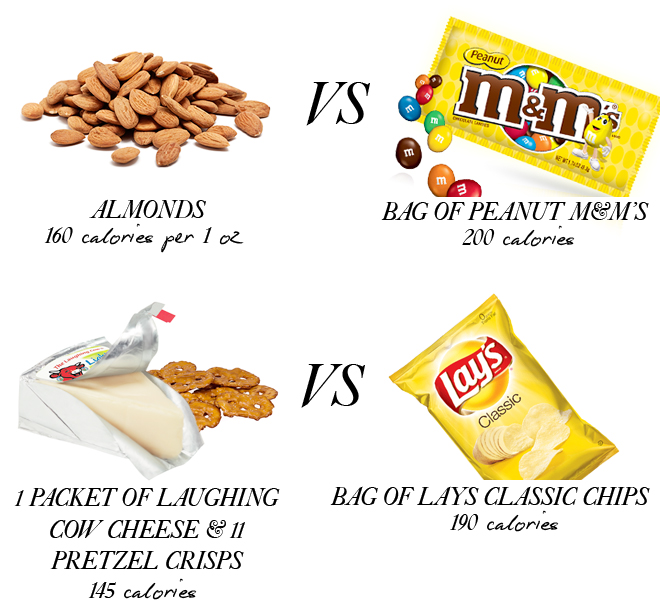 Eat This, Not That
Thanksgiving brings some of the biggest temptations. But not every food in the turkey day spread is created equal. If you skip one dish, Kaehler advises you nix the pumpkin pie, one of the most calorie-packed desserts on the table (even before you add whipped cream!). One food the trainer wishes women ate more of? Cranberries. Just check out the difference in calories below.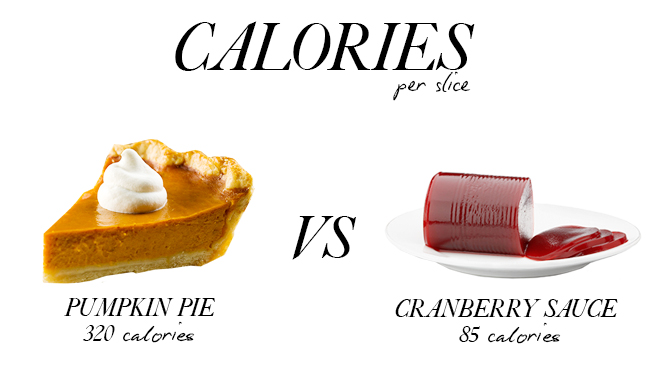 Work Out Before Chaos Ensues
Long family visits can put a strain on your gym routine. But during the holidays we're so overwhelmed, getting a quick run in is imperative to our (mental) health. Kaehler suggests setting your clock an hour or two hour early and clearing your head with a workout before the day even starts. Get those endorphins pumping!
Incorporate Guests Into Workout Routine
Don't have the willpower to wake up early? (Yeah, neither do we). Kaehler suggests planning family events that burn a few calories — a bike ride, a hike, touch football, even a bowling night. These activities are hardly spin class, but they're better than nothing. Within one hour, here's how many calories a 125-pound woman can expect to burn: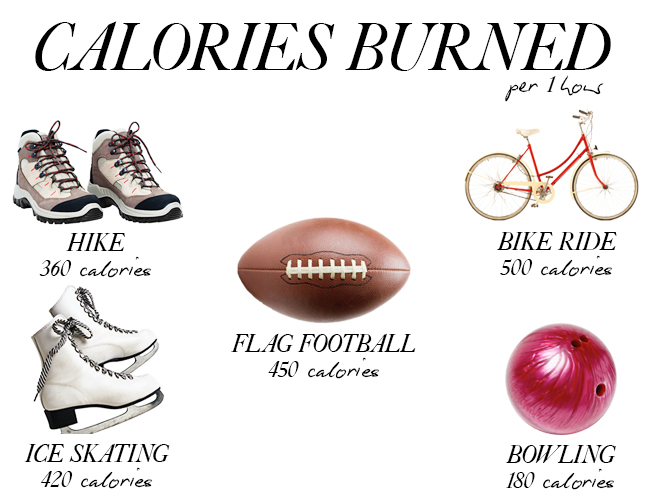 Prevent Holiday Bloating
It sounds obvious, but remember to drink water throughout the day. "Keep a pitcher that is only yours so you know how much you are drinking. Use a probiotic in your water that helps with digestion," Kaehler says. She recommends USANA Probiotic ($29.94, Shop.usana.com) that is available in one serving packets, perfect for on-the-go.
Try A Cocktail Without The Booze
With a calendar full of holiday parties, alcohol can become a major source of calories — even more detrimental to your waistline than dessert. Alcohol is a carbohydrate, and some cocktails pack as many as 700 calories. The trainer's advice? "In between each alcoholic beverage, have seltzer with lemon. It has a cocktail feel but without the alcohol" — or the calories. (An added bonus? No hangover!)  Here's what to expect from some of the season's most popular cocktails: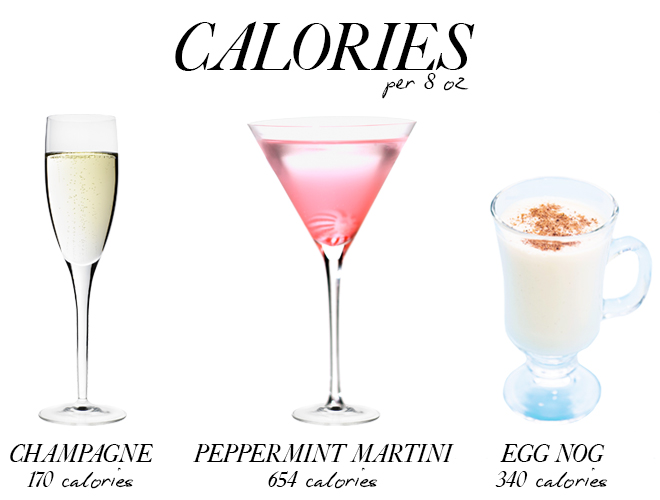 Rethink Your Resolution
Who hasn't vowed to lose weight once the New Year starts? Instead of deferring your goal until January 2nd, navigate the holiday smörgåsbord smartly and you won't gain the weight to begin with. "Know what you're eating and what calories are in them," says Kaehler. "Play a game of plus and minus — indulge but limit it to a taste with a spoonful or forkful." Just think: If you're successful, you can spend less time at the gym in 2013.
What are your tricks to preventing extra holiday weight? 
For more healthy living tips, check out Kaehler's site Kathykaehler.net.