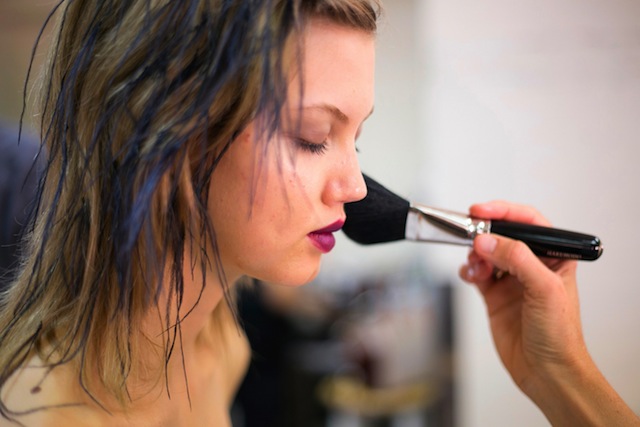 With New York Fashion Week drawing to a close, we're already looking ahead to London, Milan and Paris – and the many trends to come. But, we of course couldn't leave New York behind without first reminiscing on all of the great tips we learned backstage. While we were scouting for great model shots (and figuring out exactly what was going on with the details of the looks) the extraordinarily talented makeup artists, hairstylists and manicurists tended to drop tips and tricks for styling that we found useful in our everyday lives.
So we felt the need to share it with you guys – from learning how to finally get those flyaways to stay down to hiding your puffy eyes for good. Read on below!
Dick Page for Michael Kors Beauty: To get the right tint with your lipstick, apply the color, blot it off, and then apply again. Page did this at the Michael Kors show with his new berry lipstick "Dame," noting that it settles into more of a tint on the lips making it a universal shade.
Gucci Westman for Revlon: If you want to try to pull off pink eyeshadow, blend soft hues of brown into your crease to "ground it," like Gucci did at Oscar de la Renta. By mixing shadows of pink, soft purple and brown, she created a more wearable shade.
Tom Pecheux for Estee Lauder: You don't have to use the brush for what it says on the label. At Derek Lam, Tom Pecheux used a lip brush to blend the angled eyeliner in to a perfect cat eye cube shape, noting that the softer bristles made it easier to blend a wider shape.
Orlando PIta: If you're trying to get a tight braid pulled back towards the middle of your head (like he created at Oscar de la Renta) part your hair, and then pin with bobby pins while you braid. This will help keep your hair in place, and then simply remove the pins when you're done.
MORE: Matte Lipstick: All You Need to Know About the Look
Nick Irwin for Catwalk by Tigi: For the perfect chignons at Alice & Olivia, hairstylist Nick had a few tricks up his sleeve that he shared. To get  a chignon with no flyaways, apply mousse to the mid-lengths of your ponytail and blow dry, then twist hair into itself. The mousse keeps baby hairs or layers from sticking out of the chignon.
Tia Hebron for Bobbi Brown: The look at Emerson was all about the eye (and a great brow!) so Tia noted that if you've got thinning eyebrows or you're starting to notice bald spots, use Rogaine on the concentrated areas of brows.
Val Garland for MAC Cosmetics: To make a lip color pop more (or to get that perfect matte lip) tap a pressed pigment on top of a stain or lipstick. Don't go overboard, but just add a touch of extra pigment for an added "IT" factor.
Mally Roncal: At Tracy Reese, Mally told us, "My daughters always wake up with puffy eyes, and so do I. I put silver eyeliner in the corners of my eyes instead of white or nude. The silver picks up more light, and they instantly look awake. If I need a little extra, I use pressed powder as a highlighter in the corners, too."
Sarah Lucero for Stila: For a dewy glow and just a hint of highlight, Sarah told us to do what she was doing at Alice + Olivia: Mix luminescent, powder eyeshadow into some Vaseline and swipe upwards like a whisker on your cheekbones.
Eugene Souleiman: To hold your hairstyle without a stiff feeling, generously spray a paddle brush with hairspray, then gently brush through the hair.
More From Beauty High:
Dick Page at Marc by Marc Jacobs: "Apply This Eyeshadow Like a Windshield Wiper"
All the Details on the Foil, Pom-Pom Nails at Libertine Spring 2014
Get the Hippie Glam Look From Donna Karan New York