I'll try anything if it can save me even five minutes in the morning. Enter these beauty products that make application easier and faster. They've allowed me to successfully pull off some of the more difficult beauty looks — hello, long false lashes — just in time for the holidays.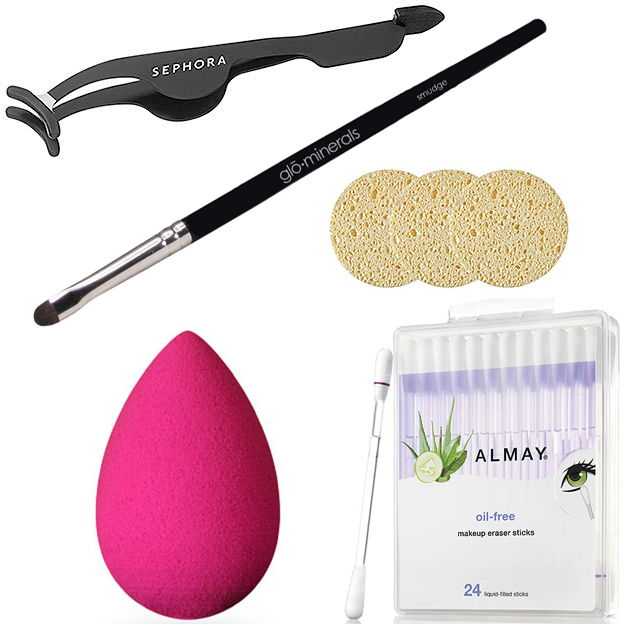 Sephora Collection Bulls Eye Lash Applicator
I'm a beauty editor and I still hadn't perfected false lashes. That is, until I tried this lash applicator ($12, Sephora.com). With its rubber-coated grip, I'm able to rest the false lash on the lash line without messing up my makeup or getting glue on my fingers.
Beautyblender
The Beautyblender sponge ($25.95, Sephora.com) is the best product for applying foundation because of its tip that makes it easy to reach around the nose and under the eyes (without irritating sensitive skin).
Almay Oil Free Makeup Eraser Sticks
These Q-tip shaped sticks ($5.49, Almay.com) allow me to easily remove unwanted makeup during application time. These are especially amazing for removing product around the eyes. I can't count how many times I have applied too-thick eyeliner and have to start over.
Sephora Cellulose Sponge Set
I recently went to an event for RMS Beauty at Norma Kamali. The beauty brand's founder (and Miranda Kerr's makeup artist) Rosemarie Swift looked at my skin for all of two seconds before knowing I had been overexfoliating. (I was literally peeling off layers of skin, my face was so dry). She told me to skip the exfoliating pads, and instead use a sponge to remove dead skin cells. Sephora's Cellulose Sponge Set ($6, Sephora.com) does the trick. You can either wet the sponge with water or use a dab of cleanser.
Glo Minerals Smudge Brush
Smudged eye liner has never been easier to create than with this brush ($12, Gloprofessional.com) that is small enough to get close to the lash line, but thick enough to create a well-blended smoky eye.
What beauty tools do you use to shorten your application time?