Fine-haired girls, we hear you loud and clear: Having easy-to-manage hair is all fun and games until you actually want to get some volume goin' on. The depressing truth is that it's impossible to actually make hair thicker, but don't fret. Armed with an arsenal of trusty products and techniques, there are numerous ways to get thicker looking hair without clipping in the extensions.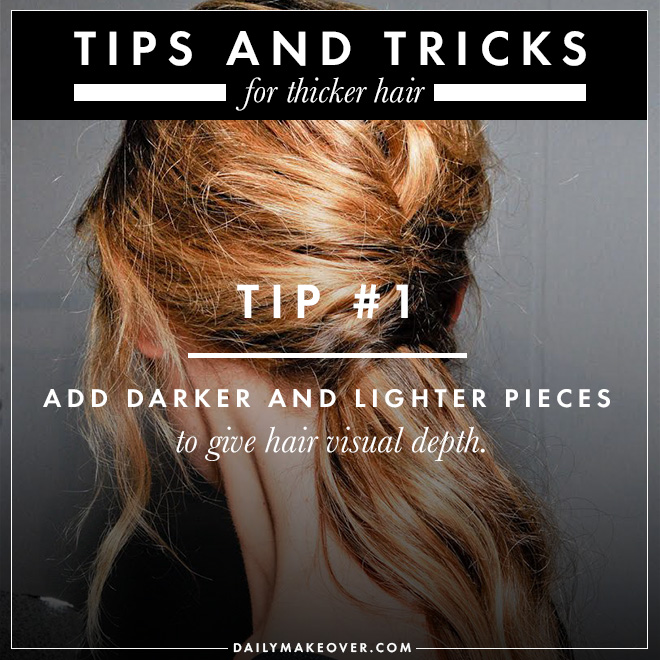 1. Get highlights and lowlights.
Adding darker and lighter pieces is one of the most underrated—and unexpected—ways to give hair visual depth.
2. Use powder.
The polymers in texturizing and thickening powders are incredibly effective in "gripping" the hair and adding weightless density. We love the budget-friendly got2b Powder'ful Volumizing Styling Powder ($3.97, walmart.com).
3. Keep it short.
Once hair hits the shoulders, the strands tend to fray and appear thinner. Keeping your style short and light keeps hair bouncy and not weighed down.
4. Bleach it.
Yes, peroxide causes damage to hair, but it's damage that causes each strand's diameter to almost double. You don't have to go full-head, either—just getting highlights will do the trick.
5. Try mousse.
Volumizing sprays and gels are more targeted, but with mousse, it's easy to comb through to coat the entire hair shaft rather than just the roots. R+Co Chiffon Styling Mousse ($27, randco.com) is the perfect lightweight formula with natural, flexible hold.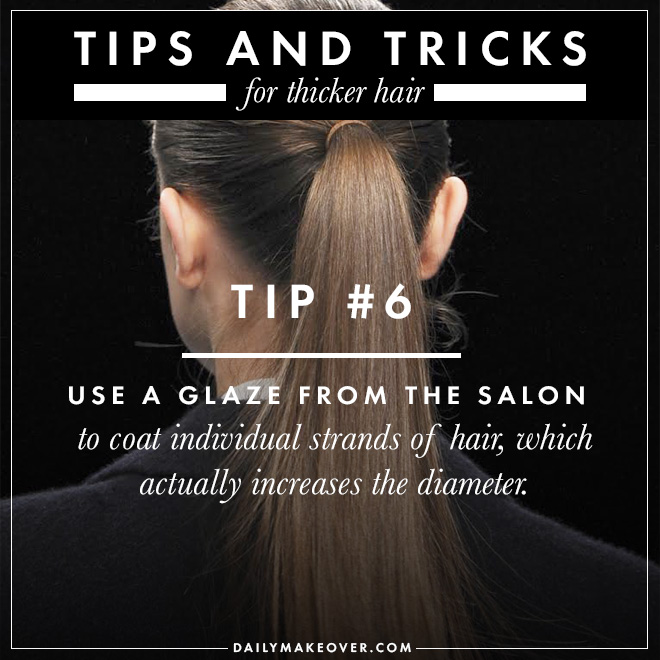 6. Get a gloss.
A glaze from the salon coats the individual strands to actually increase the diameter.
7. Blow dry in the opposite direction.
Your blow drying technique can make or break your thick hair look, so take care to keep things moving as you dry rather than focusing too much on one area or relying too much on your brush. Flip it upside down, blow air away from your part, hit it from underneath—the more movement you incorporate while blowdrying, the more movement you'll get all day long.
8. Trim it regularly.
This rule goes for maintaining all hair lengths and types, but regular trims keep hair in good shape and prevent ends from getting that "scraggly" look, which doesn't exactly translate to thick, healthy hair.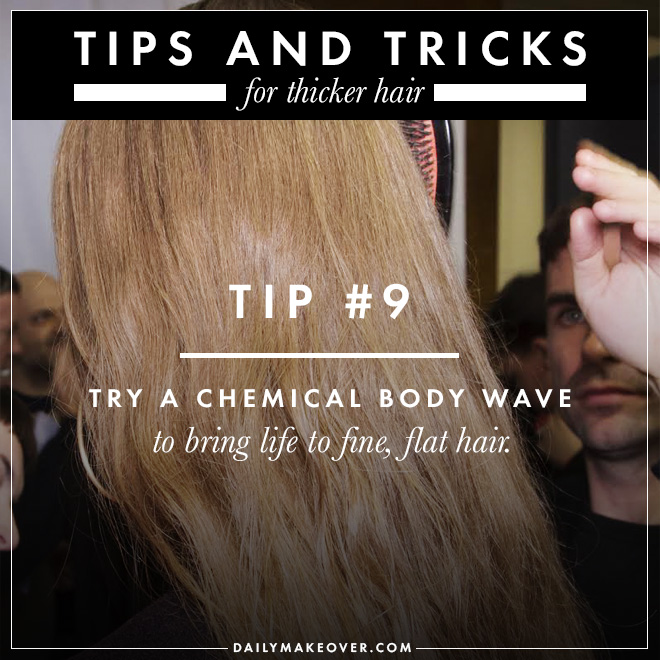 9. Get a body wave.
Perms have come a long way since the '80s, and if your fine, flat hair really gets you down, a chemical body wave could be just the thing to bring life to your strands.
10. Use dry shampoo.
Like texturizing powders, dry shampoos are great for adding density to hair, even when it's clean.
11. Rinse well.
Conditioner left in hair after rinsing can weigh it down and render it impossible to get anything close to body, so be sure to pay close attention while rinsing to get out every last trace.
12. Tease it.
Too much can cause breakage, but using a fine-toothed comb to tease hair at the root and crown creates tons of volume, and a little bit goes a long way.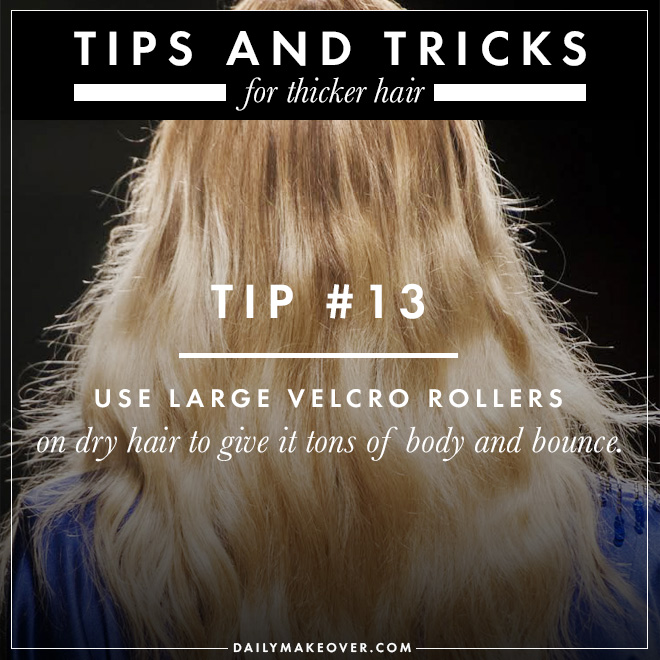 13. Use hot rollers.
Large velcro rollers used on dry hair give tons of body and bounce. Follow up with a texturizing powder or dry shampoo for gravity-defying volume.
14. Get layers.
If your hair tends to "hang," incorporating shorter layers into your cut can lighten things up and create the appearance of more plentiful strands.
15. Massage your scalp.
It seems silly, but not only does mussing the root of the hair build up bulk, but gently massaging your scalp in circular motions on a regular basis helps to stimulate circulation, which is responsible for hair growing longer and stronger.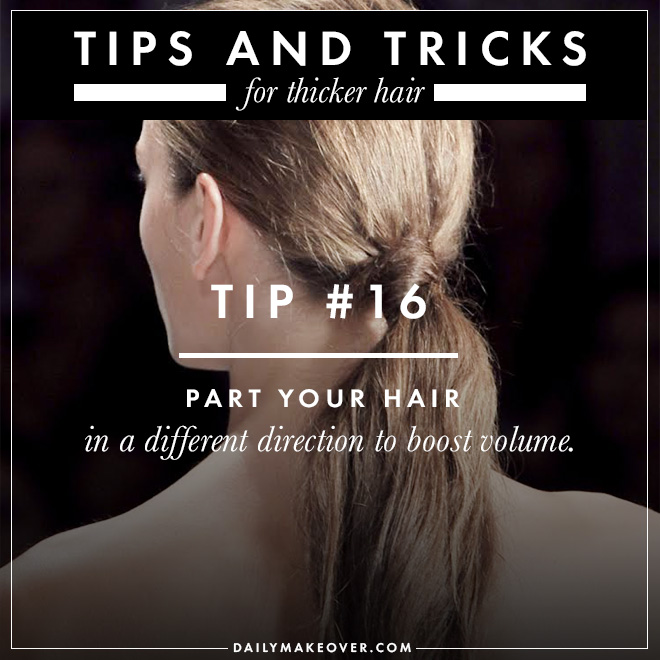 16. Part it differently.
Parting your hair in a different direction than usual is the fastest way to boost volume. Try flipping dry hair into a deep side part for an instant sexy update.
17. Use the right shampoo.
Moisturizing shampoos, which often have pearly opaque formulas, aren't the right fit for fine hair that needs volume.
18. Make it wavy.
If you don't already live and die by your curling iron, get well-acquainted with a trusty wave-creating wand like The Beachwaver ($199, sarahpotempa.com), which will enable you to create big, bouncy waves with the click of a button.
19. Have your stylist cut blunt ends.
This gives "weight" and heft to fine and thin hair, making it look and feel more plentiful.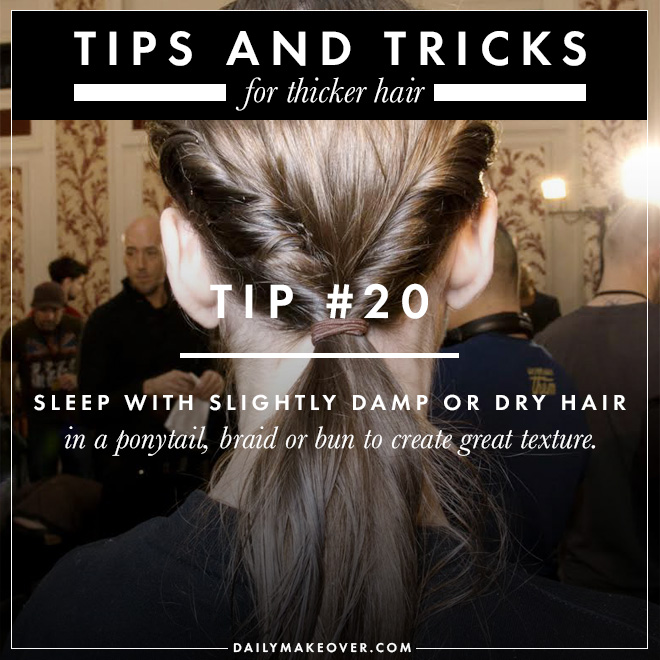 20. Sleep on it.
Sleeping with slightly damp or dry hair in a ponytail, braid or bun creates great texture and requires minimal effort. Be sure to use a soft scrunchie to avoid breakage, and use products in the morning to spiff it up.
Read more: Thick Hair Tips to Try Now