This week I met a celebrity, felt like a celebrity, and was a celebrity (to a group of seven year old Girls Scouts, that is). Here are five fun things that happened behind-the-scenes at Daily Makeover.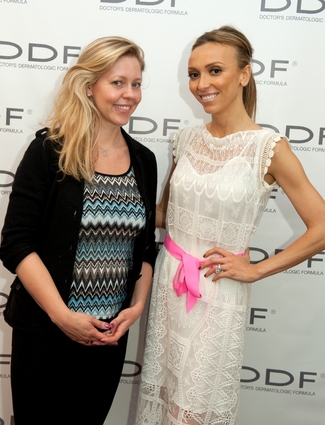 1. I Swapped Beauty Tips With Guiliana Rancic!
DDF Skincare invited me to meet Guiliana Rancic and chat about her summer beauty tips. It's hard not to admire her because she wears so many hats (E! News correspondent/managing editor, TV personality, author and founder of FabFitFun.com) and manages them all with great style and a big smile. Not to mention how she faced her battle with breast cancer head on and is now about to have her first child (by surrogate) with her adorable hubby, Bill. I was really impressed by how easy she was to talk to and how willing she was to dish out her best tricks.
2. And The Winner Is…
I presented a few awards at the Cosmetic Executive Women's annual Beauty Insiders' Choice Awards luncheon. For the first time ever, they asked top online "influencers" to present the trophies, and it was an honor to be included. It was scary speaking to a ballroom filled with top beauty industry execs (they are the ones who vote on the best beauty products), but I managed not to goof it up. To find out about all the winning products, go to www.cew.org.
3. Smile, You're On Camera…
We blog about products we love every day, so it's always so exciting to tell an even wider audience about our newest must-haves. I just wrapped up a whirlwind media tour of talking to over 20 different TV, radio and Internet outlets about our favorite summer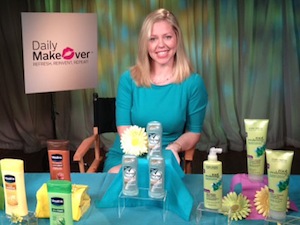 survival essentials. I had to start at 5:30 a.m. (thank goodness for a great hairstylist and makeup artist), but by the time we wrapped it up around 12 p.m., we got our message out to nine million people. WOW!
4. Give It To Me, Now!
Everyone here knows my obsession with body contouring, and I've been a sucker for many potions that promise to melt fat, shrink dimples and tone the skin. This week I had a meeting with the entrepreneurial women behind Mybody skincare to get a first-hand look at their new body collection, aptly called the Fitting Room ($245, lovemybody.com). After seeing their clinical study results, in which one woman lost five pounds, I think the technology of this clinical-grade regimen has finally caught up with our expectations. The system contains anti-inflammatory properties, skin-repairing probiotics, a retinol complex, vitamin B and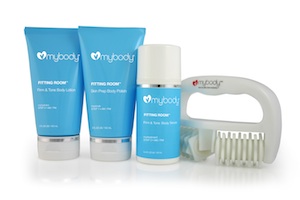 Niacinimide, which all work to flush out toxins, regenerate connective tissue and reduce the appearance of cellulite. The Skin Prep Body Polish, Firm & Tone Serum, and Body Lotion all smell refreshing and light and leave skin feeling silky smooth. Obviously, they stressed that you need to be committed to use the serum twice a day, each time using the massage tool for about five minutes, to really work the deeper layers of your skin. I'm doing it, for sure. I'll let you know in 12 weeks what I think.
5. On My Honor, I Will Try…
OK, all you Girl Scout graduates, you're going to love this one and, of course, it was THE highlight of my week. I hosted my 7-year-old daughter's Girl Scout Daisy Troop to teach them about summer beauty. The serious part of the lesson was teaching them about the importance of sun protection. Did you know that it is technically illegal for children to have sunscreen at school because it is considered an OTC product? I had no idea until my favorite sun care brand, Supergoop!, told me about their Project Backpack initiative, which aims to reverse this ridiculous law. The fun part of the lesson: I dragged our resident braid guru, Shannon, with me and she showed all the girls how to make braids. Don't they look adorable? Too fun!