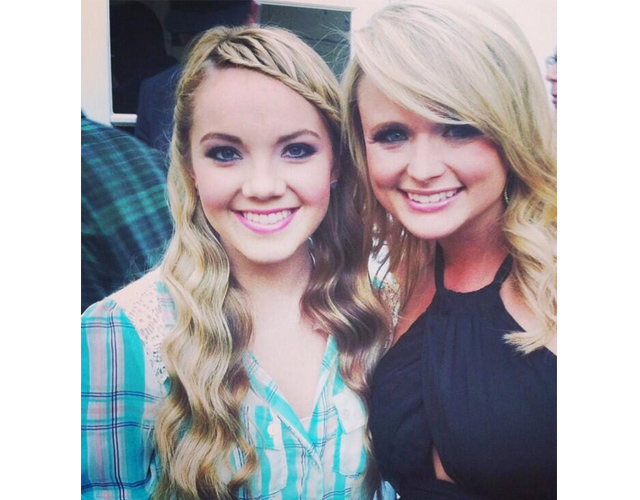 We don't know about you, but we're obsessed with "The Voice." As fans of great music, we love watching the performances. As fans of beauty, we're totally into the amazing hairstyles and fresh makeup we see each week.
We're down to the wire now (the finale is TONIGHT) and one of our vocal and beauty favorites, Danielle Bradbery, has made it to the final round. We love her fresh approach to beauty, particularly the fabulous variations of the Dutch waterfall braid she's been working on stage (seen above with her coaches' wife, Miranda Lambert). We stopped by the amazing John Barrett Salon at Bergdorf Goodman to talk to stylist and maven-of-all-things-braids Halli Bivona about how to get Danielle's amazing braid. Here's how she says you can steal the look for yourself:
1. Start with a natural wave
"The key to Danielle's look is the texture, particularly the wave to her hair. If you have naturally wavy or slightly curly hair, your texture is perfect, but if not, just blow your hair out with a round brush, then use a 1″ curling iron and wrap 1" sections of your mid-lengths (right above the ears) around the barrel, twisting the curling iron while you're pulling the hair through. By twisting it, you're stretching the curl so you'll get a nice, beachy wave and a great base for the braid.
2. Get the braid
First, create a deep side part, then create the braid by taking three separate sections and weaving them. If you want an inside braid that will lie flat, work the outside sections of the braid toward the middle. If you want a raised Dutch braid, like Danielle's, weave the middle section toward the outside.
Start from the front and braid your way to about halfway around your head. Repeat this on the other side, then crisscross the ends together under your hair and seal them with an elastic. Another fun approach is to pull your hair into a ponytail and wrap the ends of te braids around the base, securing them with bobby pins.
3. Seal the deal
I like to finish with Shu Uemura Essence Absolue; it's amazing for adding shine and keeping frizzies away. A light spritz of hairspray will help it stay secured, but not too much or it'll get stiff. I like to add a little just in case you want to sleep on the style and maintain it for a couple of days. It's a great, easy look!
Image via Twitter