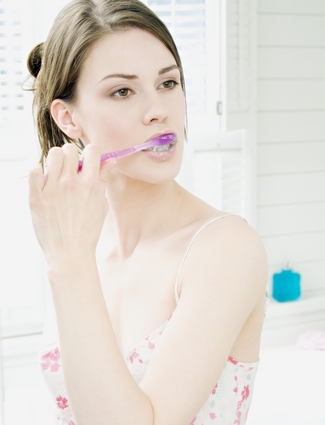 We are all headed in the same direction down the road of age, and as we skip along its winding path, we stumble across all sorts of beauty obstacles. With all the pampering and primping we do to keep ourselves looking fierce and fabulous, we might be over doing it, and I recently discovered an overlooked bump in the road.

Did you know that your regular tooth brushing routine could actually age you and destroy your smile? It's true, over-brushing can cause receding gums which then creates dark gaps in between teeth, making the smile appear older then it's years. Also, over brushing can eventually buff away the white eggshell colored tooth enamel leaving a yellow undertone to the teeth. So not a good look!

On a recent trip to my dentist, Dr. Jack Gruber, he explained that over the years our obsession with a white smile has up scrubbing away our delicate teeth and causing these types of problems. He said that we need to start considering a more gentle and soft approach to daily cleaning. Thankfully, he has created a revolutionary new brushless toothbrush that does just this, called Periclean ($9.95, Periclean.com). This new FDA-approved toothbrush is made of a soft rubber head with slight grooves that clean the teeth without causing receding gums or buffing away the thin white layer of enamel. I, of course, switched out my toothbrush immediately and now clean with confidence, knowing I'll have a healthy long lasting smile that will stay with me along my journey.

As an established makeup artist, many beauty brands send me samples of their latest products for consideration. I only write about the items that I truly love and I always abide by Daily Makeover's Editorial Ethics Pledge in each of my Positively Beautiful posts.