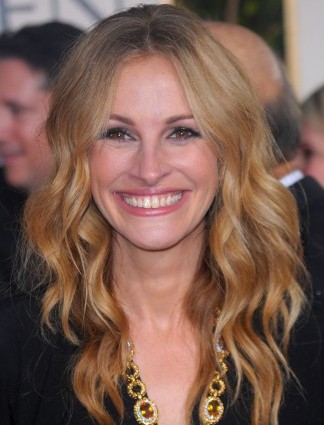 You know that moment in Pretty Woman where you wish you were Julia Roberts' character—minus the whole prostitution thing, obvi—getting swept off your feet by a handsome, multi-millionaire? Everyone has one. Mine is when she goes back to the boutique that rejected her, looking so super fierce. Every time I watch the movie, it's at that moment I begin to wonder: What in heaven's name does this woman do to look so dang good?
Related Article: Want Pearly Whites? Stop Brushing Your Teeth So Much
As it turns out, Julia takes beauty advice from one unexpected person: her late grandfather. The actress, who is famed for her mega-watt smile, says one of the best bits of advice she ever received from him was to brush her teeth with baking soda.
"I brush [my teeth] with baking soda. My grandfather would put a big heaping mound of it on his toothbrush," Julia said. "He had only one cavity in his entire life." But other than that, she doesn't do much else to look like, well, Julia Roberts. She's just too busy. I just have to say, I'm busy, too and I don't look like that. Insert sad face here.
"Sometimes that's all I do as far as a regimen goes. Look, I'm happy if I have on moisturizer and ChapStick," she told InStyle magazine. "When you're dressing three people besides yourself, something has to fall away. I've learned to always have a big pair of dark sunglasses within arm's reach before going out."
Related Article: Quick Ways To Get Last Minute Summer Color
The 44-year-old also says it's unlikely she will have plastic surgery in the future, saying: "I'm pro whatever works for you. For me, at this point, I'm clinging to my good genes and lots of hugs and kisses from my husband."
I'm off to buy three gallons of baking soda, but in the mean time, tell me what some of your beauty quirks are!