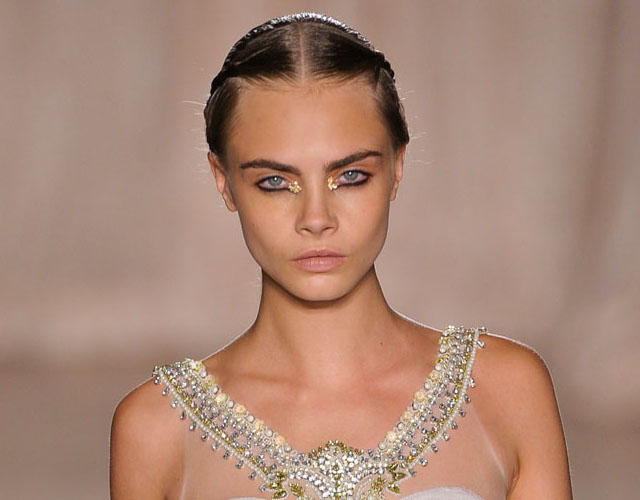 The '60s were very clearly an inspiration for designers this season, bringing lashes and bare faces to the forefront of the beauty world. At Marchesa, the inspiration has a bit of a twist, looking to India in the 1960s and taking a very non-literal approach to the look. We headed backstage to get the scoop on the overall look from Talia Shobrook of Laura Mercier, Renato Campora of Fekkai and Michelle Saunders of Essie.
"The inspiration was India in the '60s. I've seen other shows and the '60s have been very much an influence this season but the whole thing about Marchesa is that whenever they take an influence, they make it their own. There is a gold leaf on the inner corner of eye that Laura Mercier specially made for this show. The face is bare with light sculpting and there's a tinted balm on the lip. The lashes look bitty and clumpy, which is a nod to the '60s", as Talia Shobrook tells us of the makeup.
As with the makeup, the hair was inspired by India in the 1960s. Renato Campora, hairstylist for Fekkai, tells us, "We are doing two separations – one in the middle and one in the back and a very low tied ponytail. Spray gel achieves the shine. We're going to make two braids on each side and combine them into the ponytail. So, the braids will start from the upper section and the lower. The spray gel makes the braid easier, creating a very flat braid going down. It's also a very graphic look for Marchesa. The braid looks like more of an accessory to the hair."
For the manicure, Essie manicurist Michelle Saunders used two different polishes. After two coats of Ballet Slippers, one coat of Luxedo was painted on top. "On the runway, the color can look too black. The Ballet Slippers helps bring out more of the purple in Luxedo", Saunders tells us.
Image via IMAXtree