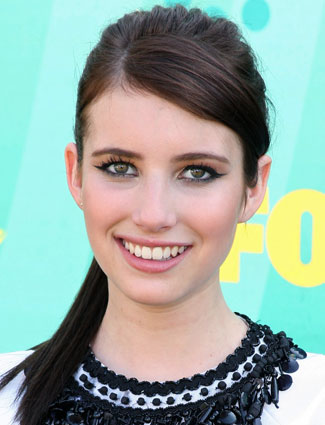 A sexy, cat-eye look like Emma Roberts' is
surprisingly easy to do at home.
Photo: Jason Merritt/Getty Images
Liquid liner has been a hot trend now for the last couple of seasons and it looks like it is here to stay. For a lot of us it seems like an impossible task to draw on that flawless line in one easy swoop. I have the easiest two tricks for you to get it right every time and look like a pro!
The secret is to cheat a little by applying a thin line of pencil eyeliner first. This will act like a guide so you can just trace over the top of it with the liquid liner. Most women are pretty comfortable using a pencil so smudge it along your upper lash line and then use your liquid liner in a matching shade to follow on top and trace along the lid winging it out at the outer corners.
To help the liner go on more smoothly you can gently tug at the temples and begin at the inner corners of the eyes sweeping on small connecting dashes little by little. If the wing at the outer corners is not perfect simply grab a small tipped concealer brush and dip it into a little foundation. Now clean up around the wings to correct the ending line and make it perfect.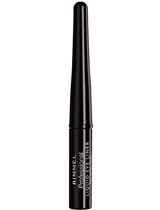 This cat-eyed look is paired best with subtle eye shadow and a healthy dose of mascara.It's also surprisingly versatile — you can pull off anything from a nude lip to a bright red one when you pair it with a classic liquid liner. One of my favorite inexpensive black ones is Rimmel Professional Liquid Liner.
Also try jewel-toned shades of liquid liner for a new twist on an old favorite like the Make Up For Ever Aqua Eyes Liners. Black is not the only show in town. A fun metallic liquid liner is a great nighttime look and electric blue is super trendy right now so check out Urban Decay Liquid Liners In Lucky Or Radium.
Whichever you choose, remember to just go for it and have fun!
As an established makeup artist, many beauty brands send me samples of their latest products for consideration. I only write about the items that I truly love and I always abide by Daily Makeover's Editorial Ethics Pledge in each of my Positively Beautiful posts.