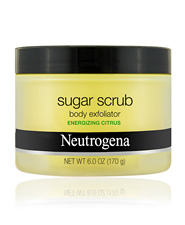 Hopefully this summer you are out and about enjoying the nice weather with a healthy, natural looking summer glow — one that is fake, of course. If you are still a bit confused about how to apply self-tanner without looking like a streaky pumpkin here are a few of my favorite tricks and tips.
The first and most important rule when applying self-tanner is to exfoliate before you do anything. Smooth skin will absorb the self-tanner in a nice even way and minimize the streak factor. Get into your shower and shave all the necessary bits. Now exfoliate the skin with a good scrub that contains granules that will help with the sloughing off of dead skin. I like anything with sugar in it like Neutrogena Sugar Scrub Energizing Citrus Body Exfoliator, but you could even use regular old white sugar straight from the box.
After the shower towel dry and skip the moisturizer. If you slather on moisturizer first it will make you a bit streaky, so skip it and go straight for the self-tanner. To avoid having dark tan areas where skin is thick and absorbs more of the tanner — knees, elbows and ankles — keep a wet washcloth handy. After you apply the self-tanner all over, use the washcloth to buff over these rougher areas. Scrub your hands with soap and sugar to get all of the self-tanner off and you won't get those brown palms.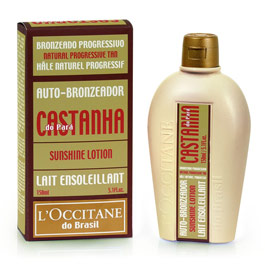 When applying it to the face, I like to use a non-latex sponge for an even application. Lightly buff the tanner all over the face and also into the hairline and over the ears so it look nice and even. Don't get dressed for about one hour and try not to brush up against anything that will ruin the application. I would recommend sitting straight in a chair for at least 30 minutes maybe working on your computer so it has time to absorb evenly.
My new favorite self-tanner is the L'Occitane Castanha Self-Tanner Progressive Natural Tan. Made from the Brazilian castanha nut, it is a natural way to get an all over tan without the harsh chemicals and it never gives you that funky smell like other self-tanners.
If it's a very light and subtle tan you want, try a two in one product. Apply a moisturizing self-tanner like Jergens Natural Glow Daily Moisturizer. You will get hydration and a very light, streak-free color that you can build day by day.
As an established makeup artist, many beauty brands send me samples of their latest products for consideration. I only write about the items that I truly love and I always abide by Daily Makeover's Editorial Ethics Pledge in each of my Positively Beautiful posts.