One of my (many) New Years Resolutions this year was to stop throwing away money on unnecessary things. I love shopping for beauty goodies but I have a habit of being easily seduced by products based on their descriptions, especially when it comes to skincare items. "Radiant, supple skin?" Yes please. "Enhanced texture and silky smoothness?" Sign me up. It's not that I'm not a savvy consumer: I check my labels, know my ingredients and research my brands. It's just that when I'm actually in a store trying to pick out items on my own, I invariably reach for products that entice me and then turn out to be completely unnecessary.
I very nearly had this situation recently at a Dermalogica event I attended. I wandered around the store prior to my appointment, looking over products and zeroing in on ones I thought would be a good pick for my skin. I worry about acne, oil, texture and fine lines so the products that caught my eye all addressed those needs. Once I'd shopped the products in my head, I headed to the counter to get my consultation.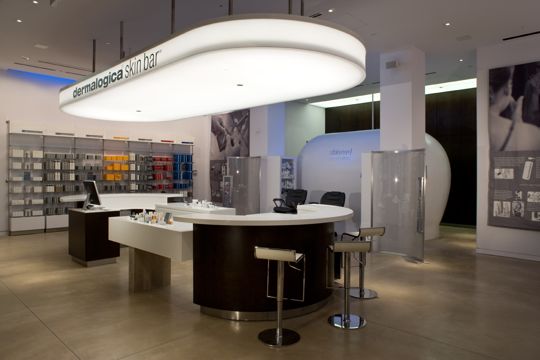 Dermalogica offers a unique (free!!!) service at their flagship stores where you can have your skin evaluated by their trained skin experts in a process they call Face Mapping. Your skin is broken down into 14 specific zones, including your neck, ears, eyes and everything in between. Your skin expert then puts on a scary pair of magnifying spectacles and systematically goes over your skin, highlighting what your issues are in each zone.
My expert, Melissa, pored (ha, get it?) over my skin and told me I was dealing with comedones (otherwise known as blackheads) in zones 12, 7, 3 and 1 (my chin, nose and both sides of my forehead) as well as pronounced dehydration all over. That was news to me, as dry skin wasn't particularly high on my concerns list. But once Melissa mentioned it, I did suddenly realize that my complexion had been feeling kind of tight and flaky recently.
Once she'd thoroughly examined my face, Melissa marked down my issues on my personalized prescription sheet. It showed a face diagram, which she had marked with codes for my issues (c for comedones, dh for dehydration, etc.) so that I knew where the problems were. She then prescribed a regimen of products for me to help combat these issues. I was shocked to find out that almost all of the products recommended were ones I hadn't picked out on my first trip around the store!
My new regimen included the brand's famous PreCleanse and UltraCalming Cleanser to get rid of dirt, debris and oil; Daily Resurfacer to exfoliate those pesky dead skin cells that cause dullness; Skin Hydrating Masque to quench my skin's thirst and keep me hydrated, Skin Smoothing Cream to help heal my texture woes, Solar Defense Booster SPF 30 to protect my skin from UV damage and MultiVitamin Power Firm to get rid of fine lines around the eyes. I've been on the products for about two weeks now and am already noticing a difference. Even though none of those products specifically address acne, I've noticed my skin is breaking out less. I'm also seeing a subtle change in texture and I'm definitely feeling rehydrated.
Would I have picked this new regimen out all by myself? Probably not. It just goes to show you that you can't always depend on the labels to know exactly what's right for you. Even if the store you frequent doesn't have as in-depth of an evaluation as Dermalogica, you should definitely seek input from the staff. They're schooled in the products and can usually tell you which ones might be a good fit for your skin. I would still do your homework and research products and brands, but definitely take their advice into account as it can help lead you to a product you may not have known about or might not have chosen on your own. It's a great way to break the cycle of wasting money on products that turn out to be wrong or ineffective on your skin.
What were your New Years beauty resolutions?
As one the web's largest beauty sites, DailyMakeover.com constantly receives products from beauty companies for editorial review. Please read our Editorial Ethics Pledge if you'd like to know how we select products to feature.