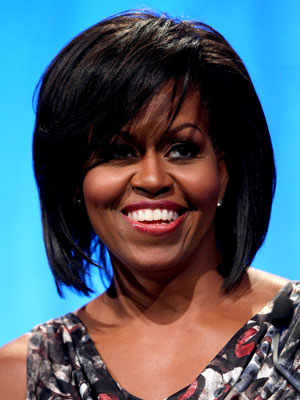 Michelle Obama knows that you can have
chic hair and still be taken seriously.
Photo: Justin Sullivan/Getty Images
For Entertainment Industry Foundation
Hey there Gibson Girls! If you haven't already gotten the latest issue of W, be sure to go out and pick it up because yours truly is featured in it! I contributed my expertise to a story about politics and hair, something that's really timely, especially for me, right now.
We opened the Ted Gibson salon in Maryland about six months ago and I'm thrilled with it. The Washington D.C. area tends to be a pretty conservative place, especially on the beauty front, so we brought a little bit of that NYC celebrity and chicness to the capital region.
There's a misguided notion that women in high-powered positions have that if you look beautiful or sexy that you won't be taken seriously. A lot of these women will opt for older-looking cuts that are heavily sprayed and kind of bland in order to be taken seriously by their co-workers.
Listen up power-suited ladies: You can look gorgeous and sexy and still be powerful. Stiff hair isn't flattering on anyone! I love a woman in soft waves — they are always a sure thing and look great on shoulder-length hair. If you prefer an updo, opt for a classic French Twist, but shake things up a little by leaving a few pieces loose so it's not so stiff. Soft hair doesn't mean you're a soft boss, so put down the hairspray and add a little bit of touchable sexiness to your usual corporate 'do.
Remember, Beauty Is Individual!