Eyebrows truly frame the eyes, and during the searing heat of summer when we tend to wear less makeup, the brows need to look gorgeous. A fuller but groomed brow makes the face appear youthful, so don't over pluck them. Nothing will destroy your perfect summer look faster than disappearing eyebrows, so if your brows are a bit sparse, fill them in with a waterproof brow corrector that stays on even through sweating.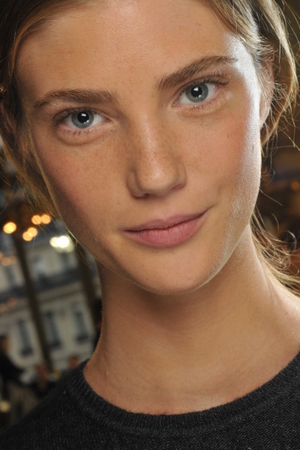 Photo: Luca Cannonieri
I have scoured the world of beauty to come up with the best summer brow products that will keep your furry friends looking flawless and in place no matter what the heat index is. If you have overplucked your brows and want them to grow back a bit faster, try the Peter Thomas Roth Brows To Die For. It infuses the brow area with rich nutrients to enhance the appearance of full healthy brows and stimulates growth, so sweep it on at night and when you wake up in the morning.
If your brows are in good shape and all you need is a hint of grooming and a way to keep them in place, go for Blinc's Brow Mousse. This water-resistant groomer adds a light hint of color to fill in sparse areas and won't fade, smear or run—even if you go swimming.
For a brow that needs a bit more help, I love the Makeup For Ever Waterproof Brow Correctors. Use a flat stiff angle brush to sweep on this filler to restore life to over plucked, weak or stunted brows. It won't move even through a session in a steam room and continues to frame the face from morning to night. It takes a bit of practice to feather on the color naturally so remember a little goes a long way. For an easier way to make the brows look their best try the Makeup For Ever Waterproof Brow CorrectorsStila Stay All Day Waterproof Brow Color. This liquid pen sweeps on a budge proof color that makes brows appear stronger and when paired with black mascara, a sweep of bronzer on the face and a coral lip and cheek you will be a melt proof beach babe!
Try on summer makeup in the Makeover Studio!
As an established makeup artist, many beauty brands send me samples of their latest products for consideration. I only write about the items that I truly love and I always abide by Daily Makeover's Editorial Ethics Pledge in each of my Positively Beautiful posts.