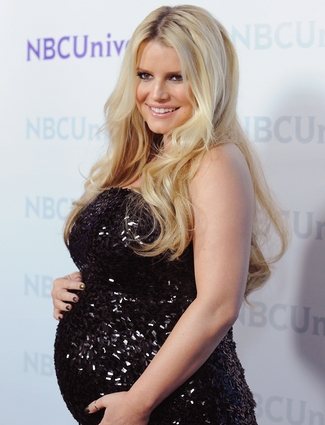 Photo: Jon Kopaloff/Getty Images
We may have given Kourtney Kardashian a hard time about dying her hair last week, but it's important to know not all beauty products are hazardous when preggers. A new nail polish brand, Knocked Up Nails, caught our fancy this week when we saw 18 super-cute colors ($10, knockedupnails.com), all pregnancy-safe.
Nail polish is notoriously packed with potentially harmful chemicals, making it really hard for moms-to-be to get a mani. Knocked Up Nails products are toluene, formaldehyde, dibutyl phthalate-free, the three most common chemicals found in nail polish. Of course there are a other brands that steer clear of these chemicals, like OPI and Deborah Lippmann, but Knocked Up Nails has managed to avoid another nasty one: camphor. Camphor can cause irritation to eyes, skin and nose. So besides pregnant women, this brand promises its polishes are safe for allergy sufferers, cancer patients and kids.
If the safer formula hasn't won you over yet, maybe the names of the shades will. With names like O-Blue-GYN, Preggers in Pink and 18K Gold Crown(ing), we can't wait to see what colors they come up with next.