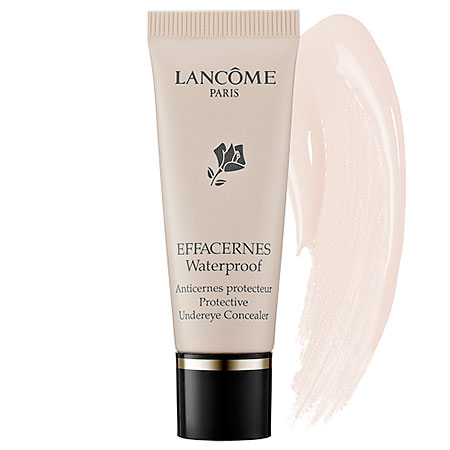 At Beauty High we constantly have new products crossing our desks and are always on the hunt for the next best thing. "The One Thing" is our way of sharing with you that must-have product that you need to introduce to your lives right now, even if it means skipping Starbucks for a couple of days.
If you've ever used a concealer that made your dark circles look WORSE, then you're with us on the importance of using a concealer dedicated to the delicate undereye area.  Matte, thick or stiff formulas won't be able to spread and blend as well as a light, liquidy ones, which happen to provide the best coverage for this specific spot. The Lancôme Effacernes Waterproof Protective Undereye Concealer provides the essential moisture needed for even, blend-able coverage while skipping out on the dryness or lightened 'raccoon eye' effect that concealer and brightening products can sometimes yield.
What Makes It Different:
It seems like such a logical idea, but it's actually ridiculously difficult to find waterproof undereye concealers! Now you can put in and take out contacts or cry a river, and you won't have to worry about streaking or fading issues.
There are 12 skin tone options, which gives plenty of room to find the perfect color match; when you have to compromise for a "close enough" shade of concealer, you can end up drawing even more attention to the area!
This little tube not only provides great under the eye coverage, but also recommends patting in the product around the eyes to lessen the visibility of any wrinkles or fine lines.
Why It's The One Thing:
There's nothing that can make you feel even more tired than someone telling you "Wow, you look really tired today!"  With a creamy undereye concealer, you'll easily camouflage any signs of fatigue and avoid ever hearing that awkward statement again. Grab and blend your new liquidy undereye concealer companion to look alert, bright-eyed, and be ready to tackle the day's challenges with gusto.
(Lancôme Effacernes Waterproof Protective Undereye Concealer, $29.50, Sephora)