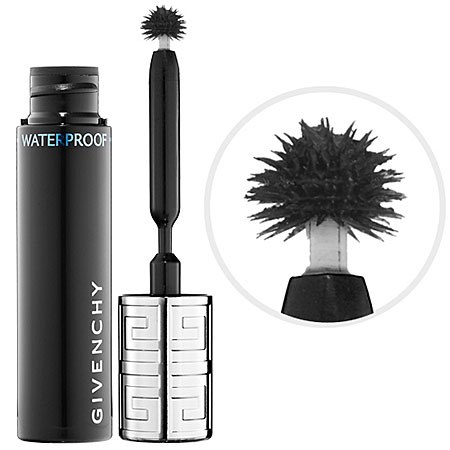 At Beauty High we constantly have new products crossing our desks and are always on the hunt for the next best thing. "The One Thing" is our way of sharing with you that must-have product that you need to introduce to your lives right now, even if it means skipping Starbucks for a couple of days.
Do you ever plan to cry or perspire? I can tell you for certain that it certainly is never on my daily list of to-dos! We never know when we may be so moved to spring tears of joy or sadness, or  be stuck in the heat longer than intended and feel an inkling of brow sweat, so it's always good to be prepared with a reliable, waterproof mascara. We're crushing on the Givenchy Phenomen'Eyes Waterproof Mascara, which has a unique wand and formula that could possibly be better than the next best thing — digging a crumpled tissue out of your handbag.
What Makes It Different:
The Arabic Gum ingredient gives your lashes curling power without any solvent chemicals,  so that you get a soft, more natural texture, opposed to a tough and brittle one that waterproof formulations produce.
The lower wax content in the product leaves lashes lightweight, yet affirmatively coated with product, making them look silken and sturdy; no stiff and spiky lashes here!
Speaking of spiky — see that cute little spunky ball wand? It is actually extremely easy to use, and only uses as much product as needed since it only attaches to the lashes as it encounters them, opposed to clumping them together in one fell swoop with a traditional wand.
Most waterproof mascaras tend to come in one shade, or shades of black; Phenomen'Eyes provides both black and brown options.
Why It's The One Thing:
At this point, it's safe to say that a waterproof mascara is (or will be) in your usual rotation, but it's crucial to find the right one. If the mascara is still adhered to your lashes after being hit by moisture, but the overall aesthetic is rigid and clumped, finding a better option that will result in soft, silky lashes is in order. Sure you want something budge-proof, but with so many great new formulas conscious of creating waterproof and feathery soft textures, you don't settle for anything less than amazing!
(Givenchy Phenomen'Eyes Waterproof Mascara, $30, Sephora)