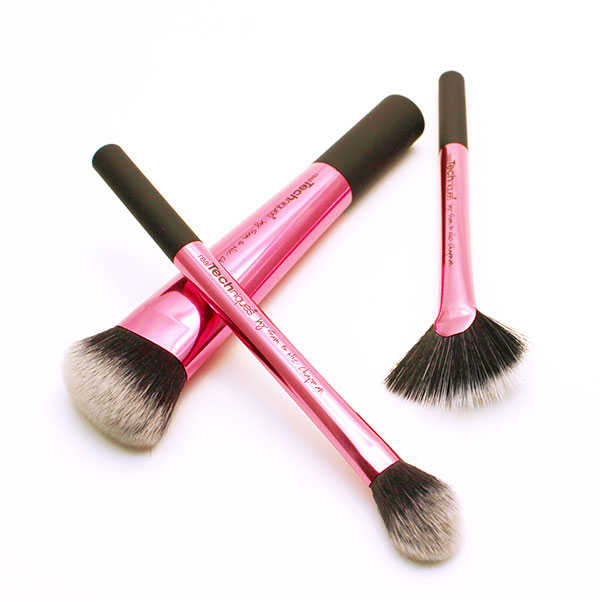 At Beauty High we constantly have new products crossing our desks and are always on the hunt for the next best thing. "The One Thing" is our way of sharing with you that must-have product that you need to introduce to your lives right now, whether it's from a drugstore or a department store.
Right when you finally got the blush application underway, contouring stole the spotlight as one of the most popular makeup techniques around. The Kardashians might have expedited contouring's fandom, but over the past few years, it's become a must-conquer by beauty lovers and YouTubers everywhere. It's the act of highlighting your cheekbones and sculpting your face, that simultaneously ends up giving you a glowy complexion. You have to use multiple products in varying darker and lighter hues in order to get the desired look (this is key). A big part of getting it right has to do with HOW to apply these products—i.e the tools you use. Not all brushes are created equal, and while you might have made that powder complexion brush a multitasker over the years, the shape and size of the brush's head end is vital. Real Techniques—the makeup brush line founded by beauty vloggers Sam and Nic Chapman—launched a tool trio that basically spells out how to ace this application method. Read on to find out why it's worth looking into.
What Makes It Different:
This set is put together specifically for the purpose of sculpting and contouring and gives you the tools you need to do just that.
The Sculpting Brush—the all-star of the trio, if you will—features a medium-sized brush-head that's cut at an angle. It's large enough to make applying foundation a quick process (you can use this brush for setting your complexion) but thin enough so when you're applying your bronzer, it sets in a controlled space that can be later blended along your cheekbones.
It comes with a big bonus—a fan-like tool that helps sweep away excess product that inevitably builds up when you're contouring without messing up the line you've just blended.
Why It's the One Thing:
Contouring is a process that is completed in steps and targets multiple places on your face. The sculpting brush obviously creates that signature contoured cheekbone line, but the highlighting brush allows you to gently place illuminator or a lighter colored complexion product on the bridge of your nose, above your brows, and on the top of your cheekbones to attract the light.
When you visit the brand's website, there are extremely helpful tutorials from Sam and Nic that show you the proper way to use each brush, in case you were still unsure.
The entire set is $20, which is a HUGE steal for three complete makeup brushes and takes care of contouring (minus the products, of course) from start to finish
Where to Buy: Collector's Edition Sculpting Set, $20, realtechniques.com