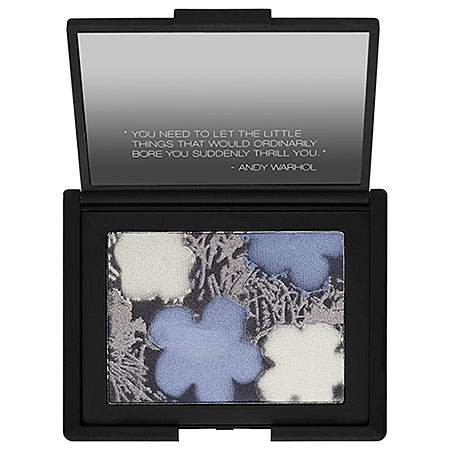 At Beauty High we constantly have new products crossing our desks and are always on the hunt for the next best thing. "The One Thing" is our way of sharing with you that must-have product that you need to introduce to your lives right now, even if it means skipping Starbucks for a couple of days.
Every girl needs an eyeshadow palette that's so perfect and cute that they want to keep it on their bathroom counter to look at it. Or a palette that you can throw in your purse when you're on the go in case you need to add some quick color to your eyes. NARS' limited edition Andy Warhol Flowers Eyeshadow Palette is just that one that you need. It features the art of Andy Warhol so you know the palette will be absolutely adorable.
What Makes It Different:
Not only do the eye shades come in flower shapes, but each palette has a quote on the inside to inspire you.
The colors are pigmented and smooth so they go on easy and beautifully.
There are three different palettes to choose from: brown shades, blue and white, and a fun palette with white, brown rose, dark lavender, and gold.
What Makes It The One Thing:
The palettes are limited edition and exclusive to NARS so they are a must-have. You can have Andy Warhol's art and your love for eyeshadow all in one palette. The blue palette makes it easy to follow the blue eyeshadow trend right now. It's also easy to blend the colors on the gray background for additional shades!

(NARS Flowers Eyeshadow Palette, $55 each, Sephora.com)