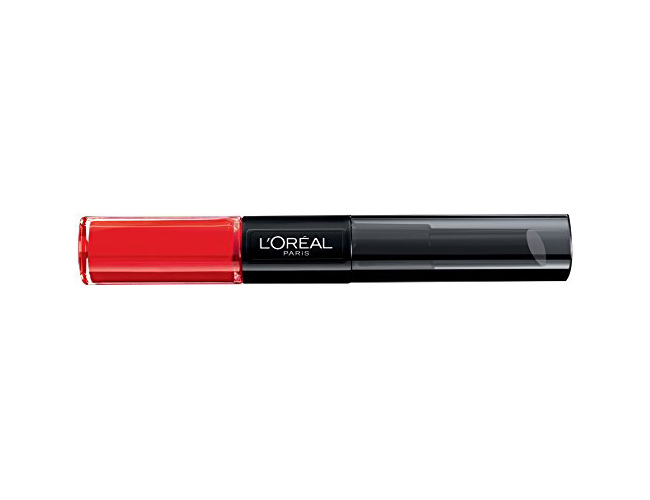 At Beauty High we constantly have new products crossing our desks and are always on the hunt for the next best thing. "The One Thing" is our way of sharing with you that must-have product that you need to introduce to your lives right now, whether it's from a drugstore or a department store.
We've had our hearts broken time and time again with empty promises of "24hr wear" and "kiss-proof" makeup. The fairy tale would suggest that once applied, you never have to touch up your lips again through a night of eating pizza, kissing, talking, maybe some karaoke—the proverbial night on the town. For those of us with a deep-seated fear of lipstick rubbing off on clothes, teeth, and in general other parts of your face/body that are NOT your lips, those fears can be put to rest, six feet under.
L'Oréal's Infallible Pro-Last Lipcolors landed in our office in a generous heap of 24 colors. The product is a standard two-parter, one side being the liquid-y gel color in a tube with a doe-foot applicator, and the other part is a clear balm that goes on last. After applying the lip color and allowing it to dry for about 30 seconds (it feels a bit like you're wearing a thin layer of liquid latex), the balm glided over it with NO color transfer on the balm—impressive. The finish is satiny and creamy, but you can blot it a bit if you prefer a matte finish. Overall, it feels like you're just wearing a moisturizing balm.
MORE: The Best Matte Lipsticks at Every Price Point
What Makes It Different:
Dinners were had, drinks were had… the color stayed on ALL night.
It really does feel like you're just wearing lip balm. And if you feel like you want a bit more moisture, you can just reapply the balm and your lips still look undiluted and just as perfect as when you first applied.
Even when it does fade after what can be construed as subjecting your lips to "excessive" duress, the color leaves your lips more evenly than most lip colors, which fade first in the middle and leave an awkward line around the edges of your lips.
Why It's The One Thing:
We've waited for a lip color like this to come along for what seems like forever—a formula that we really could do anything while wearing and not have to constantly worry about touching up.
This lip color has outperformed pretty much any and all other brands offering all-day color from every price point.
The finish is thankfully flattering and doesn't make you commit to a gloss or a matte. You can really play with the balm application to achieve the finish you want. While extreme gloss or total matte aren't really realistic outcomes, you can play up either depending on how much you choose to apply.
With 24 colors, you will definitely want to stock up on all your pinks, corals, reds, and even violets.
Where to Buy: L'Oréal Infallible Pro-Last Lipcolor, $12.99 at Lorealparisusa.com