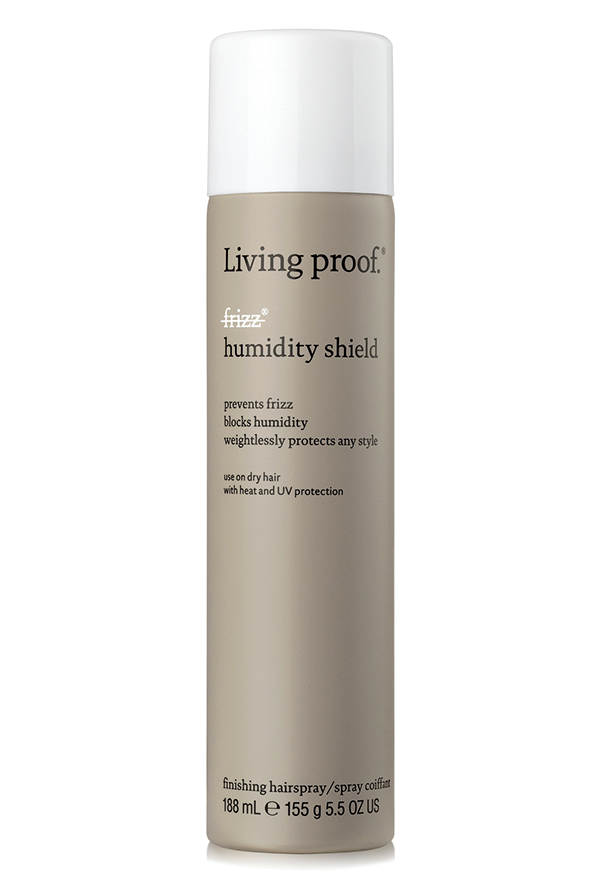 At Beauty High we constantly have new products crossing our desks and are always on the hunt for the next best thing. "The One Thing" is our way of sharing with you that must-have product that you need to introduce to your lives right now, whether it's from a drugstore or a department store.
Humidity is kind of like the Kryptonite to anyone's who JUST gotten a blowout or straightened and smoothed her hair for the day. So much work and damaging heat-styling, and all it takes is a little mist to undo the whole thing. It's enough to make anyone want to wear a clear bubble astronaut helmet just to get from one place to another in inclement weather. Well, don't speak too soon, because Living Proof may have just the thing for you… in a can. Their No Frizz Humidity Shield pretty much IS that bubble, protecting your style from rain, mist, fog—anything short of sitting in the splash zone at Sea World.
MORE: Hairstyling Products For A Frizz-free Finish
What Makes It Different:
It's not a hairspray in the traditional sense, but this does protect your style as well as against UV damage and tames static.
Living Proof patented a molecule, OFPMA, which is in their anti-frizz products and blocks humidity 70% more effectively than silicone (the common frizz-fighter in most hair products) by forming a thin and weightless barrier around each hair strand to repel humidity.
Since there's no silicones, it doesn't add a layer of gunk to your hair that weighs it down.
Why It's The One Thing:
Of all the hairsprays that promise to "lock in your style for 24 hours", this humidity shield actually has the stuff to do that. Sure, it may not hold a curl or boost up your volume on its own, but a good spray of this after setting your hair however way you like (with or without regular hairspray), and you won't have to worry about it unfurling in the open air. You can barely even feel it when it's on. You can even use it as a corrective measure to get rid of any first signs of frizz and tame fly-aways. Just section your hair and spray each section evenly, making sure to distribute to all sections of your hair. Brush or smooth your hair with your hands to bat down frizz and you're set. We tested this spray with a steamer (yes, the kind that gets wrinkles out of your clothes) and sure enough, our flat-ironed hair didn't even budge. This miracle hair product won't be released until mid-May, which will be just in time for when summer heat is really starting to kick in. And then you'll get to kick that humidity to the curb.
MORE: 7 Causes of Frizzy Hair
Living Proof No Frizz Humidity Shield, $22, available May 22, 2015 at Livingproof.com