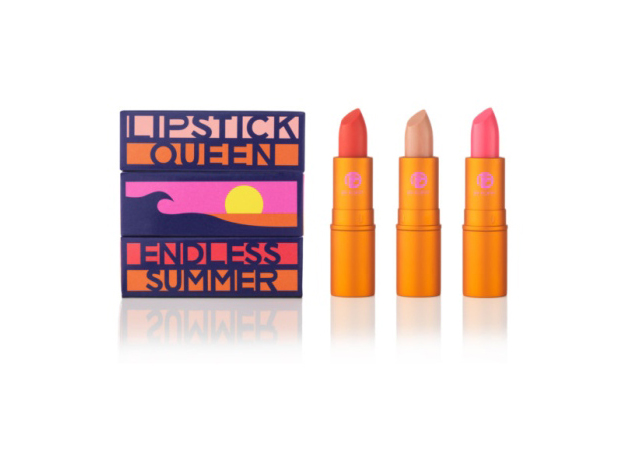 When it comes to picking out our lipsticks, we're not an easy bunch to please. We want the perfect color and texture, but with the technology of products nowadays, we expect products that come with an added punch, such as a bonus of vitamins and moisturizing benefits. So, when we were introduced to Poppy King's new Endless Summer line of lipsticks, we couldn't have been more excited about the three hues – and obviously needed the entire collection to wear throughout the season.
The set includes Hang Ten, a warm, sheer nude; Perfect Wave, a bright, punchy pink; and Stoked, a sheer, bright coral, all packaged in a poppy orange casing. The Lipstick Queen herself designed the line based off of the iconic surfing movie of the same name (in which two surfers travel the world in the pursuit of an "endless summer"). Since we all secretly want that deep down, if these colors can get us one step closer, we're in.
What Makes It Different: 
The ultra-glossy lipstick is sheer enough that you can wear it year-round, or you can layer for a brighter pop of color during the summertime. 

Like we mentioned above, we love an added bonus of vitamins, and these include Vitamin E and natural oils for a super nourishing formula.
Whether you're a neutral or brights girl, there's a color for everyone in this collection.
Why It's The One Thing:
Finding a bright lipstick for summer that can be worn all day (and transitioned from day to night) is no easy task – but this one can do just that. The sheer-factor makes it suitable for daytime, and the ability to layer the color to amp it up for night makes it a favorite in our book. Plus, it's so nourishing that layering won't dry out your lips!
Where to Buy: Lipstick Queen Endless Summer Lipsticks, $22 each, SpaceNK.com
More Lipstick Tips From Beauty High: 
How to Make Your Lipstick Last All Day
Your Lipstick May Contain Traces of Lead (But It's Harmless!)
The Ultimate Guide to Finding Your Perfect Red Lipstick