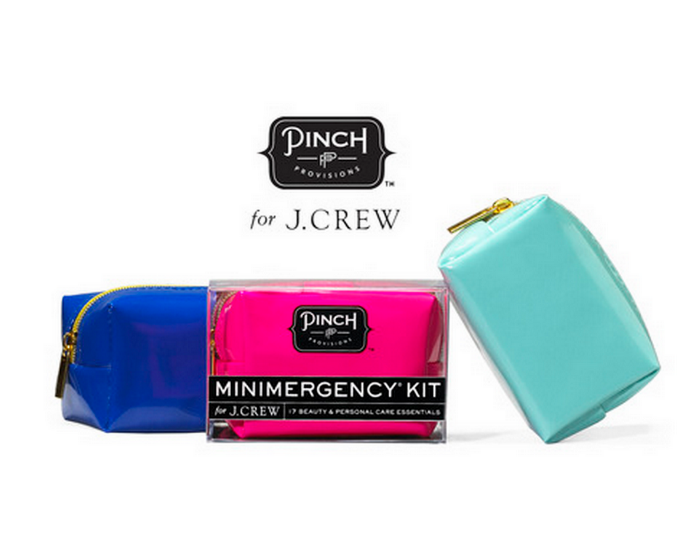 At Beauty High we constantly have new products crossing our desks and are always on the hunt for the next best thing. "The One Thing" is our way of sharing with you that must-have product that you need to introduce to your lives right now, even if it means skipping Starbucks for a couple of days.
Whether they're uber-organized or not, girls on the go always have purses that start out organized on day one of use – complete with compartments for hair products, first aid accessories, and technology – and end up being a black hole for everything by about hour five of that first day. After blisters, chipped nails, coffee spills, headaches and bad breath, the amount of remedies needed can really add up, and organization quickly goes out the window. Enter the new Pinch and J. Crew Minimergency Kit, a zipper pouch smaller than a cupcake, stocked with 17 (yes, 17!) essentials that everyone needs in their purse.
What Makes it Different: 
The case is light, compact, and can fit in an evening clutch.
The products in the bag come in super tiny size, so it's easy to pack back up once you've used a product.
The case comes in bright colors so you can always find it in your purse.
Why it's the One Thing: 
The kit, sold for $15 at J. Crew stores, contains all of the essentials you need on a daily basis and then some. Deodorant, top coat polish, band-aids, stain removers, nail file, safety pin, double-sided tape and the list goes on, are all included in a tiny little kit that you can bring everywhere, feeling confident that you'll never be stuck in a beauty blunder.
Pinch Minimergency Kit, $15, J. Crew Stores