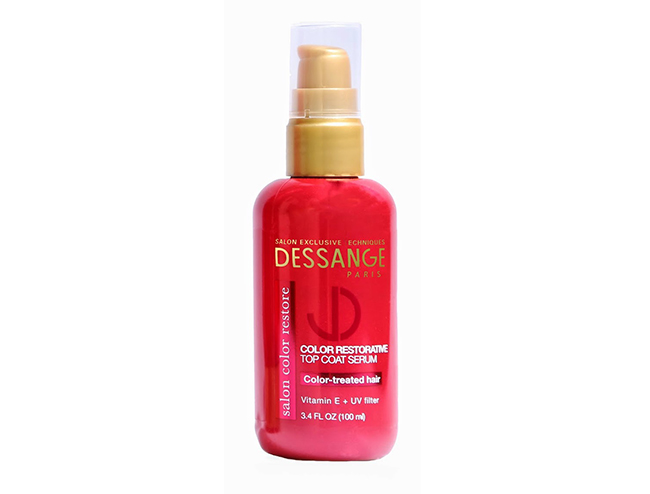 At Beauty High we constantly have new products crossing our desks and are always on the hunt for the next best thing. "The One Thing" is our way of sharing with you that must-have product that you need to introduce to your lives right now, whether it's from a drugstore or a department store.
For those who just can't stop coloring their hair, there has got to be some sort of insurance package including the countless hair masks, serums, conditioners, and products to protect your color as well as your hair's health. If you've ever double-processed your hair, you know how it pretty much turns to straw-like strands, sacrificing texture for the color of your dreams. So you pile on the product, thinking that in conjunction, they'll somehow rebuild your hair back to its former splendor. Not one to elbow its way to the front, Dessange Paris comes through with its Color Restorative Top Coat Serum—a modest offering that despite the unassuming small bottle, it packs a pretty big punch in terms of leaving your hair shiny, soft and silky—plus, conditioning with vitamin E and UV filters.
What Makes It Different:
This serum is seriously the lightest hair product you'll put on your hair, other than H2O.
With Vitamin E and UV filters, you get the conditioning PLUS the protection for your hair and color.
You can put as much or as little in your hair, wet or dry, and it doesn't weigh it down.
Why It's The One Thing: 
This serum smells as good as it works—that is to say, very good.
Since it's so light, you can apply it on the go and not worry about having greasy-feeling hands since the oil absorbs into your skin almost as fast as it does into your hair.
If you need a top coat for your manicure, the same concept on your hair really makes a difference as far as layering products goes. Not only does it condition, it seals in any other conditioning products you apply before it.
Where to Buy: Dessange Salon Color Restore Top Coat Serum Treatment, $11.99 at Target