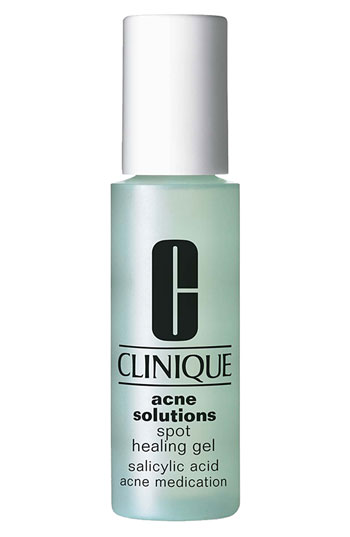 At Beauty High we constantly have new products crossing our desks and are always on the hunt for the next best thing. "The One Thing" is our way of sharing with you that must-have product that you need to introduce to your lives right now, even if it means skipping Starbucks for a couple of days.
Nothing puts a damper on the day like a pimple that appeared out of the blue. Sometimes, regardless of how often you wash your face or the amount of money you spend on facials, your hormones or genetics get in the way of clear skin. We've all been there, and we all know how it can affect us throughout the day. Finding a secret weapon that attacks acne almost instantly is everyone's goal, and when we tried the Clinique Spot Healing Gel, we knew it would be a staple in our purses and medicine cabinets.
What Makes It Different: 
While cleansers can take a while to clear up skin, the Spot Healing Gel repairs the area affected by acne just about overnight. It should be used as a spot treatment, not on the entire face, which would call for an appointment with the dermatologist. 
Only a small amount of gel is required to work, so the container of treatment lasts for a long time.
When you first apply the gel, your skin may tingle a bit, but that is just a sign of the gel acting against your acne. You can apply more than once a day, but we'd recommend once in the morning and once at night.
Why It's The One Thing: 
Whether you've got a formal occasion like prom or a wedding coming up or you're just going on a first date, there's nothing worse than a pimple. This Spot Healing Gel actually works quickly to clear your skin and once we tried it, we became lifetime subscribers.
Where to Buy: Clinique Acne Solutions Spot Healing Gel, $16, Clinique.com
More Acne Tips From Beauty High: 
Learn How to Banish Body Acne in Time For the Beach
How to Safely Pop a Pimple at Home