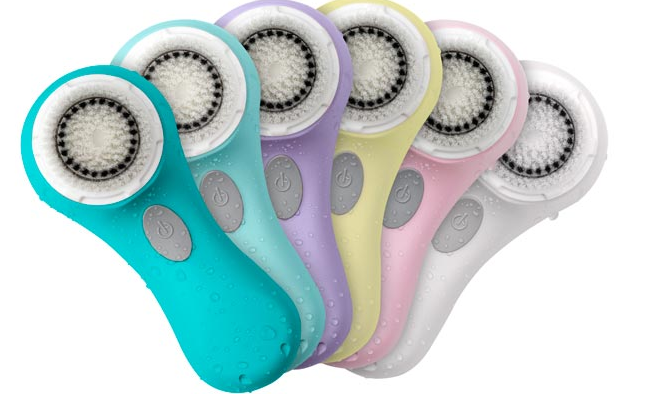 At Beauty High we constantly have new products crossing our desks and are always on the hunt for the next best thing. "The One Thing" is our way of sharing with you that must-have product that you need to introduce to your lives right now, even if it means skipping Starbucks for a couple of days.
When it comes to skin care, the Clarisonic Mia2 Skin Cleansing System is a wonder machine. We're a fan of the suite of Clarisonic products, but the Mia2 is targeted specifically towards acne-prone skin, so we're particularly fond of this one. It's important to remove all impurities and unwanted oils from skin every day, and this does the trick. Using sonic technology, this micro-massaging tool gently cleanses the skin with 300 movements per second. The flexing action between the outer and inner brushes works deep within the pores to loosen dirt and oil, while the back and forth oscillating motion of the inner brush effectively cleans, clarifies, and stimulates the skin. Without putting stress on collagen fibers, the sonic technology works gently and effectively to provide a safe form of skincare without over-cleansing. It is recommended to change the cleansing head every three months and clean the brush weekly.
What Makes It Different:
This small tool removes up to 6 times more makeup than cleansing alone, leaving skin soft, smooth and clean.
Sonic technology works to actually let the products you apply after using the Clarisonic better absorb into skin.
There's an effective reduction in the amount of visible pores, oily spots, dry ares and blemishes.
Why It's The One Thing:
This small, travel-friendly tool is essential for any skin type when it comes to skin care. Allowing the benefits of other products to absorb into skin and removing 6 times more makeup, we're hooked on the Clarisonic Mia2.
Where To Buy: Clarisonic Mia2 Skin Cleansing System, $149, Available at Sephora.com
More Skin Care Tips From Beauty High:
101 Best Tips For Clear Skin
4 Key Ways to Change Your Diet For Clearer Skin
The One Thing: Kiehl's Skin Rescuer For Stressed Out Skin