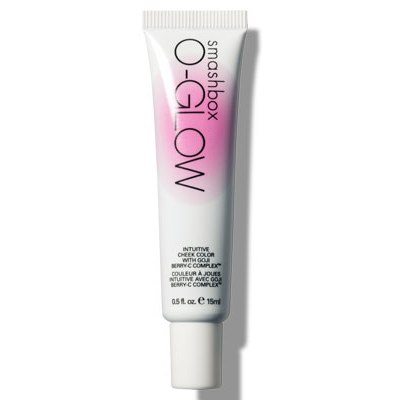 At Beauty High we constantly have new products crossing our desks and are always on the hunt for the next best thing. "The One Thing" is our way of sharing with you that must-have product that you need to introduce to your lives right now, even if it means skipping Starbucks for a couple of days.
Have you ever "over blushed" yourself? I can tell you that I have, and there's only one word to describe the way I look when this happens – crazy. As much as I love gliding the blush over my cheekbones while I make a sexy pucker-lipped face, I like even better the sensation of ease and total control when I carefully pitter patter it in, via gel form, into my cheeks. Gel blush has gained in popularity the last few seasons, and a fool-proof way to get the look is with the Smashbox Cosmetics O-GLOW Intuitive Cheek Color, which will leave you without having to worry about the color-match guessing, which means you can breathe easy that you won't end up with the well-defined "Clown Cheek" look.
What Makes It Different:
One tube, every skin tone — the ingredients work with the skin's moisture to activate the color, which will produce a complimentary rosy blush customized for you.
The fragrance-free won't irritate your skin as it sinks in, and also provides some skin nutrients via Goji Berry-C Complex, ginkgo biloba, and pomegranate seed.
O-GLOW goes on clear and a little goes a long way, which means you can easily manage your application of the product and tailor it to very specific areas, especially if you want more of a deeper look or a slightly blushed effect.
This is recommended for both lips and cheeks – just dab it in for a rosy glow!
Why It's The One Thing:
Honestly, what's not to love about gel blush? Using your
fingers
makes makeup fun again, and with a gel, you don't have the worries that you do associated with a powder, such as smashing it in your bag or not being able to see how much product is actually on that brush that you're about to stroke your cheek with! Since gel is lightweight with an ultra-sheer yet dewy wash of color, regular powder blush may now very well feel like a distant memory!
(Smashbox Cosmetics O-GLOW Intuitive Cheek Color, $26, sephora.com)