When Urban Decay launches a new product, it's cult fans listen up. But, if it's in their Naked line of products, pretty much the entire world waits with baited breath to figure out how to get their hands on the new release. The first Naked palette climbed to cult-product status faster than the brand could restock their supply, and currently they sell 1 Naked product every 3 seconds globally (a statistic that includes palettes and the expanded Naked skin line).
Since we are definitely one of their cult fans, we've been keeping a close eye on the brand's expansion – and more specifically, the Naked line's expansion. As numerous other beauty brands have come out with neutral palettes, Urban Decay has been able to keep a steady hold on the nude category, so we had to found out how they do it. Plus, with the new launch of Naked On the Run (their travel palette of Naked essentials timed for a holiday launch) we sat down with Creative Director and Co-founder Wende Zomnir while visiting the brand's new California brick & mortar store. Below, Zomnir talks about her inspiration behind the latest palette, why she thinks Naked has been so successful, and how she plans on continuing to grow the line.
Beauty High: First of all, how did you come up with the idea for the newly released Naked On the Run palette?
Wende Zomnir: My idea with that palette was I'm always going somewhere. So, I'm going from here to the gym and then out, or I'm having to travel at the last minute, or I'm having to go from this and that, or I'm trying to squeeze in a workout at noon, and I was always packing my makeup bag, and then I would never really unpack it. Then, if I did unpack it it would be all over my counter and it would look bad, and I was like, 'There's gotta be a way that I can just take something and go.' So that was really the whole idea behind Naked On the Run – to be able to take a palette that could just come with me, and be sort of brainless really.
How did you choose the shadow shades you put in the palette? 
So, the shadow shades I picked are in there because I wanted to be able to create everything from a daytime look to sort of a daytime smokey to a true going out look. And I love blush and bronzer together, whether you use it as a contour situation or an all-over glow situation, and we made the one lighter shadow bigger because I felt like you could use that as a highlight if you needed to. So, it really kind of captured everything you needed for the face in one palette, other than your skin tone match foundation product. And then, the eyeliner is almost black but not quite, the mascara, and a really pretty lip.
MORE: Urban Decay's First Store Has Officially Opened, More to Come
Alright, so talking about Naked as a whole, obviously it has expanded like crazy. How do you go about thinking about what your next Naked product will be?
Well, it hasn't been hard so far because every single one of those Naked palettes has been very, very different because it's more about tones and what kind of tones you like to wear in a neutral family, and so we've really been able to compartmentalize it. And, I think there are still more tones out there to be explored with Naked, and then I think the Naked Basics was really born from again, it was really a travel need thing, where I felt like I was traveling, and I could pull a few shadows to match my outfits but I was always pulling the same neutral shades. And you need those basic neutrals just to take you from Point A to Point B on almost any eye you create.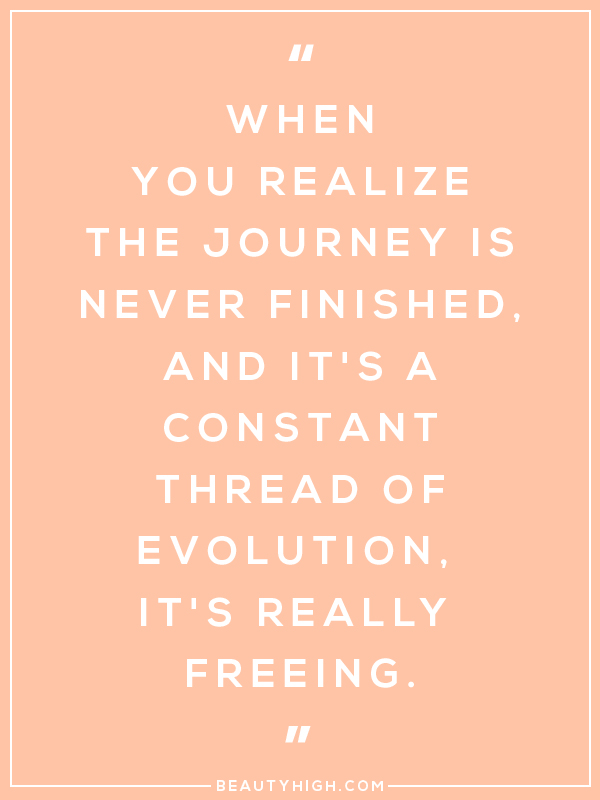 A lot of people have started to do their own neutral palettes – how do you keep Urban Decay's Naked fresh and different in the marketplace?
Well, I think we need to always be reinventing, and I think people don't know what we're going to do next. So, I don't know that we keep doing the same case over and over or we organize the shadows the same way – I think we can always tweak things. And, I think one of the philosophies that we live by here is that nothing's ever done. It was a moment that I had a few years ago, it was right after I met Tim [Ed Note: Tim Warner, GM] and I was standing at our display in Sephora. I was like, 'If I just get this panel changed, and this product launched, and then these strips changed out and it will be done.' But then it hit me and I was like 'Oh my god, but it's never going to be done.' And it was a really freeing thought, because you're always trying to get to the end of the journey, but when you realize the journey is never finished, and it's a constant thread of evolution, it's really freeing. You're not like so tied to your goal anymore, your goal is your goal, but it can change as needed. And I think I look at Naked the same way. I wouldn't say I wouldn't relaunch the original Naked palette – maybe I'll tweak a shade or two, maybe I'll change the case. I think it could be done better. I look at it now and I'm like, 'Oooh, I'd do that better." So, as long as you're willing to be critical of your own work, and you're willing to look forward at new technologies that are available both packaging and formula-wise, and say 'let's do it better, let's reinvent it', then I think you're always going to be able to keep it fresh and different and keep everyone guessing about what you're going to do next.

MORE: Urban Decay's Wende Zomnir Talks Product Names, Bold Makeup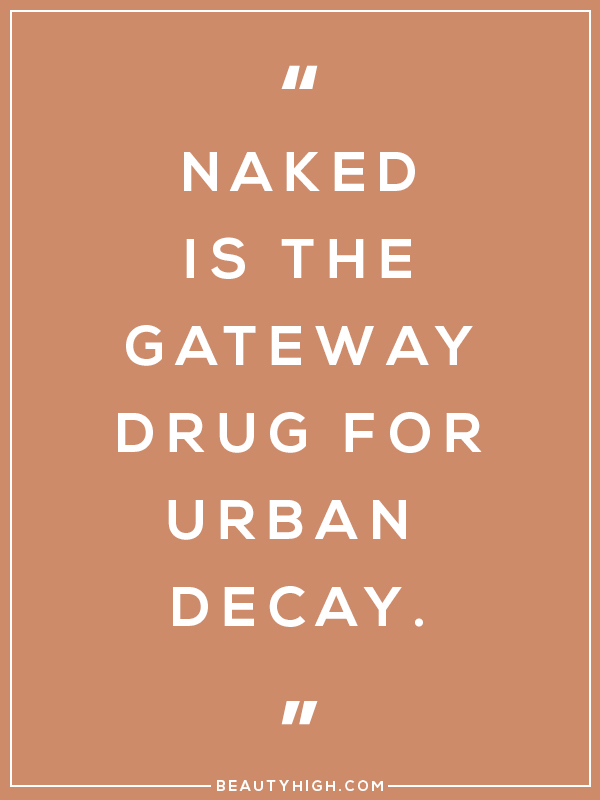 What has been your primary goal with Naked overall?
My prime goal with Naked was I wanted an amazing neutral palette that you could take anywhere and have a variety of looks, that you felt it was all the neutrals you needed, and it has evolved from there obviously. My prime goal with it now, is I love that Naked introduces new people to our brand. And that's what we really found out – it is the gateway drug. Someone asked me what my gateway drug was, and Naked is the gateway drug for Urban Decay. I love that people come to us, and then they discover the 24/7 pencils, and then they discover Perversion Mascara and then they discover our lipsticks and then they become true Urban junkies. And I think that's the most exciting thing about Naked. And for a regular Urban costumer, I think everyone has a need for neutrals, and this gives her a non-boring option for getting her neutral fix.
What can we expect of Naked in the future?
We're always looking for different ways to do Naked in a more cool and interesting way, and I think the thing you have to remember is products are really cyclical. So, that original Naked palette, it'll peak – everything is always peaking or falling. So you can't have this attachment to it, and you also have to be ready from a business standpoint to say it would be great if this fired from all cylinders all the time, but that isn't always the case, so what else are we going to do?
And finally, what do you want a consumer to think the moment they see a Naked product? 
I want them to think, those are all beautiful colors I could wear, and they're kind of kick-ass.