I recently received a request from a friend of a friend who had a less than pleasant salon experience and asked me for suggestions – see the email chain and pics below. I loved it, what do you think? LMK
---
Hi Jason,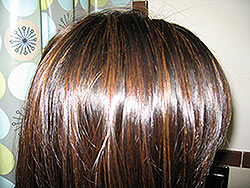 Great to finally "meet" you… Thank you so much for helping me out–I really didn't want to spend the rest of summertime looking like a cheetah 😦 I had asked for natural brown or red highlights (possibly slightly lighter, but subtle) and I think the colorist and I had a different understanding. I've attached some pictures of what my hair looks like now–I just got it done last night so I haven't washed it yet. Any words of wisdom would be appreciated 🙂
Kathleen
---
Hi Kathleen!
No worries this will be as easy as pie! If you were in the salon, I would recommend a gloss. For at home I say try Natural Instincts. I recommend the Brass Free shades – Brass Free will eliminate the orangey tones and still leave nice variation. By the looks of your before picture, I think you should try Brass Free Lightest Brown, 6.5C – look at the images on the back of the box for the before and after and see if this looks like a good match. If Lightest Brown seems too light try the Brass Free Light Brown, 6C. The darker the color you choose the less variation in the final color you will see. Since you just paid to have highlights you probably don't want to cover them up completely you just want a tone that suits you better. When you purchase it, get two boxes. If you end up needing only one, you can return the unused box or save it to do another "gloss" in 3 or 4 weeks.
When you do your application, start with your hair wet but towel dried. Apply the product from scalp to ends, comb it through to ensure even application, process 8 minutes and then rinse. After you rinse, dry the area that bothered you the most so you can accurately read how the color deposited – ideally you will still have nice variation in color but the orangey-redness will be neutralized. If the red still shows through too much, repeat the application with any leftover product or with the second box of color.
I'm excited to hear how it goes for you!!! Keep me posted
Jason
---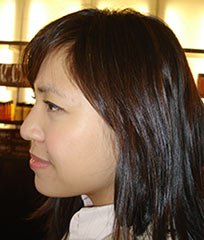 You are the best!!! You are like the Mother Teresa of hair color! The result came out amazing : ) I did it yesterday and it was truly as easy as you said it would be, and my first time with box hair color too!! I'm totally sold! I used the 6, light brown, and applied it two times.
The second time was the charm, and took away all of that awful orange/red brassiness. I am relieved to finally no longer look like a tiger — it was a scary 36 hours.
Kathleen
Any product I mention in HUEman Behavior is one that I've tested out myself and is in accordance with Daily Makeover's Editorial Ethics Pledge.