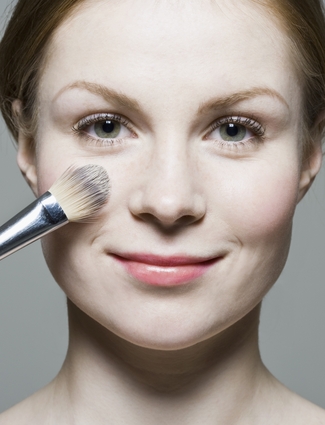 To powder or not to powder, that is the question many women are asking me these days. They want a glow to their skin without looking like an oil slick, but they are afraid powder will settle into fine lines, making them look older. I believe in powder, but the right kind of powder, as it makes all the difference. Years ago, we started using 2-in-1 powder foundations that we thought solved all of our beauty problems. The issue was it left us feeling cakey, muddy and it masked our skin. These days it's all about showing off polished, natural looking skin with a sheer wash of powder.
Face powder should have two main purposes. One is to set your foundation and concealer, so it will last all day, and the other is to erase shine, so you look soft and dewy, not greasy. My favorite powders are jet milled fine sheer powders that do the trick without leaving a heavy residue on the skin. MAC Blot Powder ($23, Maccosmetics.com) is my go-to favorite powder, since it acts like blotting papers in a powder form. You will never be left with chalky looking skin. It's literally invisible and works best with normal to dry skin.
If you tend to be really oily, try using a mattifying gel before your foundation, and then use Sally Hansen Natural Beauty Inspired By Carmindy Luminous Pressed Powder ($11.95, Drugstore.com). This powder is made from bamboo and has massive oil absorbing properties, yet looks undetectable on the skin. You also might want to throw in a packet of Clean And Clear Blotting Sheets ($6.49, Walgreens.com) in your purse to eliminate shine throughout the day. The Makeup Forever HD Finishing Powder ($30, Sephora.com) looks white in the jar but dusts on invisibly for a matte finish that still allows skin to look fresh. So set, blot and go with the right powders and know your skin will look flawless!
As an established makeup artist, many beauty brands send me samples of their latest products for consideration. I only write about the items that I truly love and I always abide by Daily Makeover's Editorial Ethics Pledge in each of my Positively Beautiful posts.