Ever do something different with your makeup, or part your hair on the other side, only to have everyone ask if you've lost weight, or just come back from vacation? Sometimes the best makeovers are the ones that consist of a few tiny tweaks rather than one big overhaul.
Sara had been growing out her hair for ages, but "I felt like it was flat and boring," she said. She thought that going light blonde might give her look a boost, so she came to colorist Carol Wood at New York's Aveda Academy armed with inspiration photos of golden, Blake Lively-blonde locks.
"I'm always thankful for a picture. Everyone's idea of caramel, ash or wheat is different," Wood said. But the photo should just be a jumping off point, never a blueprint for an exact copy. With hair color, there are other factors at play — like maintenance, which Sara wasn't used to worrying about.
"You want it to look good now and two months from now," Wood explained. So instead of taking Sara to a shade that would require regular touchups, Wood chose to "brighten her up" with medium blonde, honey highlights that would complement the warm flecks in her eyes. "The way the color is going to wrap around her waves will change the shape of her face," Wood said before lightening Sara's hair. Who knew a few subtle highlights could make such a difference?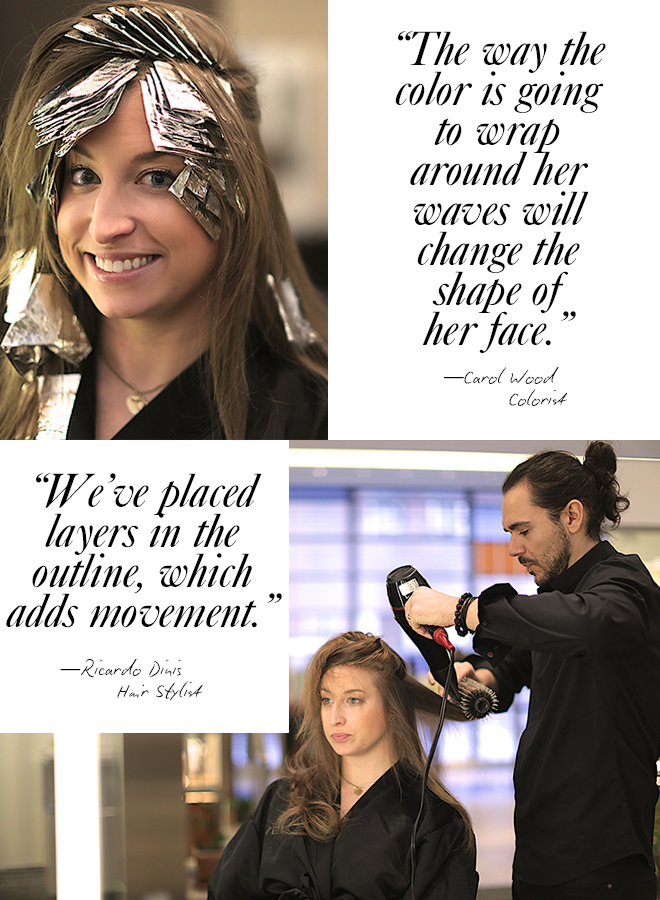 Then it was time for the cut. Since Sara had been growing her hair long, Ricardo Dinis, Aveda Global Artistic Director, Hair Cutting chose to keep the length, but to adjust the shape. "It's more about what you leave on the head," he explained. "We've placed layers in the outline, which adds movement." The key to the look is all in the blowout, which Dinis didn't want to look too "salon-perfect." After he prepped Sara's wet hair with Aveda Control Paste ($22, aveda.com), he used a round brush to create volume and finished with Volumizing Tonic ($17) to fatten up Sara's strands. He added another helping of Control Paste to create a lived-in, "street ready" texture.
Finally, it was time for the makeup chair. "She has amazing eyes that she wanted to accent," said makeup artist Eva VanAnglen, who used bright green Aveda Petal Essence Eye Definer in Jade Vine ($16, aveda.com) along Sara's lash line. Talk about an instant makeover: The bold color immediately brightened her face. She added warmth to Sara's skin with Uruku Bronzer in Amazonia ($24) and created a soft, natural lip with Nourish-Mint Sheer Mineral Lip Color in Sheer Melochia Bloom ($16), a soft pink.
At the end of the day, Sara still looked like herself, but glowed a hundred times brighter than when she first stepped into the salon. "When I saw my first look I felt excited, rejuvenated and looking forward to a clean slate," she told us later. "My style changes daily, and now I have a great foundation to start my day!"
Read more: Real Girl Makeover: "Help! What Should I Do With My Hair?"