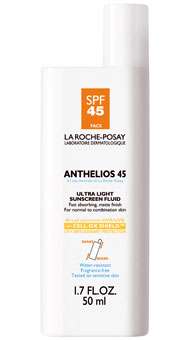 Scary fact: One person dies of melanoma (the deadliest form of skin cancer) nearly every hour, according to the American Cancer Society. Daily sun protection is as important as all the other basics to good health such as eating well, not smoking, and regular exercise.
Putting on sunscreen every morning doesn't have to be an extra step. All I do is mix a generous squirt of SPF 30 sunscreen with a dime size drop of my favorite tinted moisturizer or foundation, then slather it all over my face and down my neck. I actually love this routine because it makes my foundation look very sheer and natural and the sunscreen looks less shiny on my skin–it's the best of both worlds.
My favorite sunscreen is La Roche-Posay Anthelios 45 Ultra Light Sunscreen Fluid. It's water-resistant, broad-spectrum and feels extremely light on the skin.