You know how you see the "bestsellers" and "most popular" products in beauty stores, so you of course scoop them up, but then you realize you have no idea how to work them? In "How It Works," we're going to explain to you exactly how to get the best use out of your products, whether they are cult classics or hot off the conveyer belt must-haves. We'll teach you the basics, as well as a few industry expert tips to make sure you're getting the most out of everything you buy.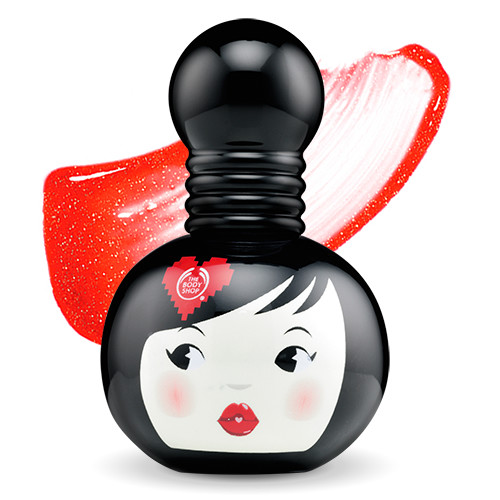 Ah, lip and cheek stains—you either love them or you really, really hate 'em. If you're in the former camp, you probably can't get enough of the long-lasting flush they impart. If you're not a fan, you likely can't stand the fact that they leave your cheeks streaky, your fingers tie-dyed, and your lips redder than Bette Davis in "Whatever Happened to Baby Jane" (Google it—you'll see.)
And while knowing how to apply stains correctly is half the battle, it's a fact that they're not all created equal. That's why we're loving a new special-edition tint from The Body Shop, which seems to have figured out the right consistency. However, it takes a little work to, well, really make it work.
Product Perks: 
Unlike some cheek stains, this one feels less like a gel and more like tinted water—which makes it easier to build color.
Don't be scared of the neon red color—it imparts an in-from-the-cold flush on cheeks, and a just-bitten tint to lips.
It's enriched with community fair trade marula oil, so it's not drying (hallelujah!) and ideal for winter weather.
Though our editor who tested the stain is cool-toned, we bet the red shade—which has tiny traces of golden glitter—would flatter any skin tone.
The adorable doll-like packaging, duh.
How It Works: 
Like most tints, this one—part of the retailer's Holiday 2014 collection— takes a few trial runs to really get it right. The applicator is small and spongy like a lip gloss, and on the lips can be applied as such.
We've found that dabbing a little on the apples of your cheeks then blending with your fingers works, but dabbing some on your fingertips then applying it to cheeks works better, since you have more control. But—as we mentioned above—the formula is a tad watery, so we came up with a clever solution to stop streaking: We mixed the stain with a tiny bit of plain old moisturizer, which worked wonders. Not only did it thicken it up a little, but it became easier to maneuver when on your skin, and adds a nice dewy finish.
Geisha Doll Lip & Cheek Stain, $16; at The Body Shop