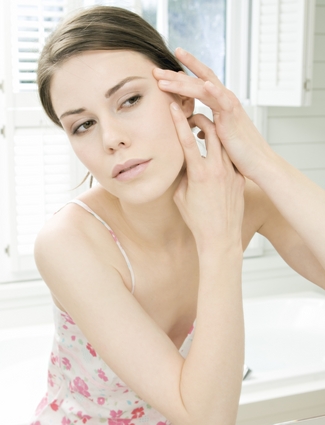 Photo: Getty Images
As much as we love summer weather, the sunny season can wreak havoc on our skin. Oily sunscreens and sweat are only the beginning of our acne problems. But with beach activities, weekend getaways and summer sales, it can be hard to find the time or money to fight pimples. So we dug around to find the best over-the-counter, acne-fighting product out there–something that will work regardless of season–to rid of blemishes the fast, affordable way.
Getting To The Root Of Adult Acne
Here's what we found: La Roche-Posay Effaclar Duo Dual Action Acne Treatment ($36.95, Laroche-posay.us), which is a light, creamy-looking gel that really multitasks; it reduces inflamed, red skin (thanks to the Benzoyl peroxide), fights acne, evens skin tone, and minimizes pores. A clinical study showed that over a 12-week period, this product was as effective as a leading prescription acne treatment. Needless to say, this is exciting news, because now you can save a ton of money on a prescription treatment, while getting the same results. What makes me feel even better about this product is that you'll see a noticeable difference in three days, research showed, or in my case, an overnight improvement. Even the nasty spots can't hide from this stuff.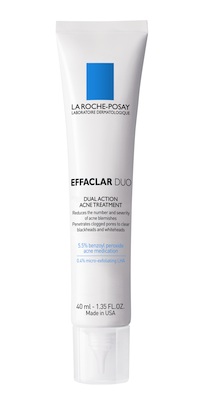 So what makes this treatment so awesome? It's all in the ingredients. Researchers came up with a unique formula for Effaclar Duo that includes micronized BPO and lipo-hydroxy acid (LHA). In layman's terms: the first ingredient, BPO, works as an acne medication, which is clinically proven to clear acne, with minimal irritation. LHA, on the other hand, which is a derivative of salicylic acid, works as an exfoliator to help regenerate skin cells. This is the first time these two ingredients have been combined into one unstoppable formula, and science shows it's just as awesome as a prescription treatment.
The best part? If you suffer from mild or moderate acne–which almost half of women in their 20s do–you get super fast results without breaking the bank. And it doesn't smell like zit cream (bonus!); it's fragrance and paraben-free, so it's good for all skintypes. In a nutshell, it's a game-changer.
"The most common complaints I hear from patients about their prescription acne regimens are that they cause embarrassing, red irritation or are too expensive to maintain," said New York-based dermatologist, Dr. Hilary Baldwin. "La Roche-Posay Effaclar Duo Dual Action Acne Treatment is an additional tool in my arsenal of acne treatment options for patients looking for an affordable, effective solution, with real results in only three days."
Vitamin D and Your Skin: What's the Deal?
A completely unique, affordable, time-saving acne treatment that works just as well as a prescription formula? Don't mind if we do!