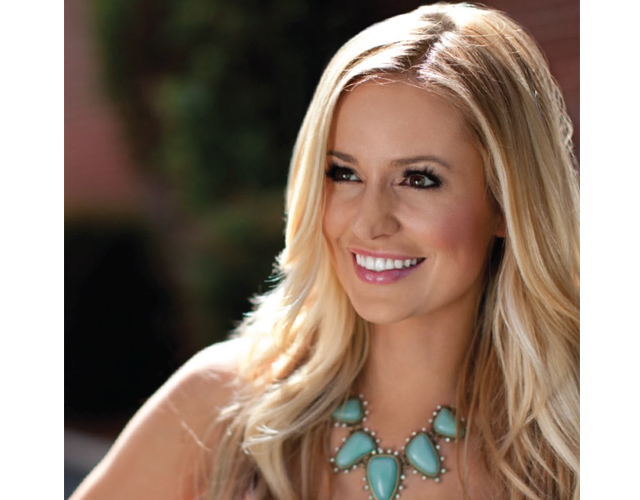 One of the most beloved "Bachelor" contestants of all time, and then the "Bachelorette" who once again stole America's heart, Emily Maynard may not have ended up happily ever after with her men, but she certainly taught us how to take life's ups and downs in stride – and look flawless while doing it. Now, Maynard is looking to make a name for herself once again by working with jewelry company Towne & Reese on her very own collection – a line that includes more than 60 pieces. The line will be available this July on Maynard's own site and features mixed metals, hammered hardware and natural stones all for under $150.
We caught up with Maynard to talk about her upcoming project, as well as her time on the hit ABC show. She let us in on some behind-the-scenes scoop (such as who gets their makeup done by the pros, and who has to do it themselves) and her favorite makeup tricks. Read on for more!
Beauty High: Where do you get your inspiration for the jewelry you create? 
Emily Maynard: A lot of them are inspired by things I found when I was traveling. For example, the Claire necklace is based off of one that I found when I had 10 minutes to go shopping in Croatia. I go to a lot of antique shows and all over the place, taking bits and pieces of jewelry that I see in magazines or on the internet and pulling from each of those pieces. I really wanted things that you could dress up or down, I think it's hard to find pieces like that.
Do you have any tricks that will help people learn how to layer their jewelry?
Yes! On my website [EmilyMaynard.com] there is a section called, "Shop the Look." It will be four different squares of how I pair the pieces with the whole outfit and you can just shop the whole look.  It's four different types of outfits like going out, maxi dresses for everyday casual, etc. and it will show how I stack with necklaces and earrings.
Let's talk summer date night looks:  Do you have any tricks or advice to give people that are going on a date that won't simply scare guys away?
I find that guys like more of a "You look pretty but are you even wearing any makeup?" kind of look.  After I do my powder, I put on a little highlighter and I think it's really pretty – in the summer especially.  I always like to put a little white in the corner of my eyes, it brightens up your whole face.  I also think a good tan, a spray tan or bronzer can make a big difference.
You've got a crazy schedule, do you have any tips for "on-the-go" beauty?
Yes, I always keep blotting papers in my pocketbook. Mally Beauty has these crayons that you can use on your cheek and lips or anything, so I keep one of those in my pocketbook too.
Now let's talk about "The Bachelor" and "The Bachelorette." On the show are you doing your own makeup?
Whenever you are one of 25, you do your own makeup, you do everything yourself, clothes, everything. Whenever you're the Bachelorette, the makeup artist, Gina Modica, did my makeup for rose ceremonies but dates and everything else you're on your own.
Are you given a dress code?
Whenever you're the Bachelorette you have a stylist, you work with Cary Fetman, and he pulls every possible type of clothing. I spent a week with him and we would go in his apartment from nine in the morning until nine at night and try on racks and racks and racks of clothes. Everything from undershirts to shorts to everything you can imagine. At that point you don't really know where you're going, you don't know what the weather is going to be like, you just have to trust them.
So once you got there did you know what outfit to wear when?
They give you suitcases for each date!
Did you learn a lot of new tricks with your makeup artist and hairstylist when you were the Bachelorette? 
Yeah, Gina, I know I drove her crazy because I'd always say, "What's that?" and "How do you do that?"  She'd say "We can't, we're in a hurry, people are waiting on you."  I would just go and play with her makeup and she had tons of it, I learned a lot. Watching myself back on TV I'm like, "Okay, that does not work, don't do that again."
[Courtesy Image]
Find More Beauty Tips On Beauty High:
Beyonce's Makeup Artist Spills on Mrs. Carter World Tour Looks, Makeup Tricks and More
Khloe Kardashian's Hairstylist Dishes About Favorite Looks and Instagram Inspiration
'Bachelorette' Emily Maynard's New Look: The Full Details